Young Llama Thoughts
Adventurous

Christian Friendly

Easy Reading

Humerous

Youth Appropriate
Overall
4.2 Llamas










Review
This book was sent to me for FREE so I can give an honest review of it on YoungLlama. And may I just say "honestly"… I LOVED IT!!!!! I love reading suspense novels, and this is such a good suspense novel for teen girls and young adults!
This book is very clean and is full of mystery and excitement around every corner! And the book is very Christian-friendly as well! But there is violence in the book; people get shot, die, there is drugs in the book, (heroin and marijuana) and there is mention of the word raped… So this is a 12 and up book, and is more for girls than boys.
Over all, I very much suggest this book to anyone who loves a good mystery! And it is a GREAT book for an adult too!!! I hope you all have a great day! -The Young Llama Reader.
Pros
A VERY good book for teen girls and young adults!
Suspense and mystery!
Cons
Violence.
Mention of drugs such as heroin and marijuana.
Not really a kids book.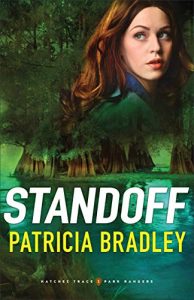 The Natchez Trace National Parkway stretches 444 miles from Nashville to Natchez, the oldest town on the Mississippi River. It's the perfect road for a relaxed pleasure drive. Unfortunately for park ranger Luke Fereday, lately it's being used to move drugs. Sent to Natchez to infiltrate the organization at the center of the drug ring, Luke arrives too late to a stakeout and discovers the body of his friend, park ranger John Danvers.
John's daughter Brooke is determined to investigate her father's murder, but things are more complicated than they first appear, and Brooke soon finds herself the target of a killer who will do anything to silence her. Luke will have his hands full keeping her safe. But who's going to keep him safe when he realizes he's falling–hard–for the daughter of the man he failed to save?
Award-winning author Patricia Bradley introduces you to a new series set in the sultry South that will have you wiping your brow and looking over your shoulder.
Was this post helpful?
Let us know if you liked the post. That's the only way we can improve.