Young Llama Thoughts
Adventurous

Christian Friendly

Easy Reading

Humerous

Youth Appropriate
Overall
3.9 Llamas










Review
"Sigh…" I had received this book for Christmas, and at first I was really excited to read it! However, when I was only a few chapters in a weird couple showed up and I knew they were LGBT… So I refused to read it for quite a few weeks. And then yesterday I finished it, and I was sadly right about the couple……..
This is the 3rd book in the Pages & Co series. And it was pretty good. Interesting plot line. Funny characters. Confusing mysteries. But the weird couple really ruined it for me. Now, I do not dislike LGBT people. However! I do not think LGBT should be in a child's book!!! If the book says on the outside it has LGBT then that's fine. (I will just never buy it) But. If it is sneaked in the book hidden for a kid to find, that is wrong! I should not have to read something I don't want to read about. And neither should you!!!!!
Other than that, the book was very clean. It was adventurous and very interesting. Tilly and her friends have to go find the Archivists, and save all the books before it's too late! There is clean magic, fun characters, and a magical train that can take you anywhere!
Over all, I don't know if I would suggest this book. On one hand, it's a very fun, interesting book filled with magic that kids will love! On the other hand, this author really disappointed me and I wouldn't want to force a kid to read this stuff… I guess you get to decide? Have a fabulous day! -The Young Llama Reader.
Cons
Sadly there is a LGBT couple in the book…
Some violence.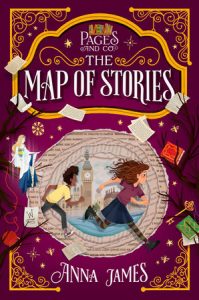 Third in the modern-classic and bestselling bookwandering series that celebrates all that is best in life: books, adventure, friendship – and cake.
Strange things are happening. A man comes into Pages & Co looking for a book… then suddenly can't remember it. Tilly and her family feel like the world is changing – but can't quite put their finger on why.
Meanwhile, the Underwoods are expanding their control over bookwandering – and they still have their sights set on Tilly. Leaving the safety of the bookshop, Tilly heads to America to find the legendary Archivists and save bookwandering…
… or at least, that's the plan. Wandering in layers of story, Tilly and her friend Oskar come up against dangers they could never have expected, team up with an unexpectedly familiar face, and ultimately find themselves taking on the biggest threat to stories there has ever been – with only their courage and ingenuity to help them. As well as some of their dearest fictional friends…
Was this post helpful?
Let us know if you liked the post. That's the only way we can improve.