Young Llama Thoughts
Adventurous

Christian Friendly

Easy Reading

Humerous

Youth Appropriate
Overall
4.3 Llamas










Review
Romance! The thing that makes you want to throw flowers at people, eat chocolate, and watch lovey-dovey movies! And this book is definitely that. I received this book from Baker Book House for my review, and I LOVED it!!!!! It was funny, romantic, Christian-friendly, great for young women 14 and up, and it made me very hungry for tacos!!!!!
This book is about a women who is trying to run her Aunts taco truck. Only thing is… she can't cook. And a man who is done trying to be the lawyer his father wants, decides to open his own food truck for the upcoming annual food truck festival. But when both realize they have to win, and that means not falling for each other, they decide to go head-to-head to see who is the better taco chef with a battle to the food truck death!
This funny retake on the classic 'You've Got Mail" is amazing! Not only do you get the drama, funny parts and romance form the movie! But you also get tacos!!!!!!! I LOVED IT! And Betsy St. Amant is now one of my new fav authors! I don't really have any complaints. Its a nice thick book perfect for a relaxing day of reading! Though this isn't really a kids book. More teens. (Mostly cause I don't think some kid wants to read about kissing and falling in love 🙂 )
Over all, a new favorite book on my shelf and a new fav author who's book I will be buying up soon! Have a beautiful day! -The Young Llama Reader.
Pros
Another wonderful book from Baker Book House!
Funny, clean and very Christian-friendly!!!!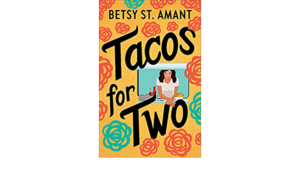 Rory Perez, a food truck owner who can't cook, is struggling to keep the business she inherited from her aunt out of the red–and an upcoming contest during Modest's annual food truck festival seems the best way to do it. The prize money could finally give her a solid financial footing and keep her cousin with special needs paid up at her beloved assisted living home. Then maybe Rory will have enough time to meet the man she's been talking to via an anonymous online dating site.
Jude Strong is tired of being a puppet at his manipulative father's law firm, and the food truck festival seems like the perfect opportunity to dive into his passion for cooking and finally call his life his own. But if he loses the contest, he's back at the law firm for good. Failure is not an option.
Complications arise when Rory's chef gets mono and she realizes she has to cook after all. Then Jude discovers that his stiffest competition is the same woman he's been falling for online the past month.
Will these unlikely chefs sacrifice it all for the sake of love? Or will there only ever be tacos for one?
Was this post helpful?
Let us know if you liked the post. That's the only way we can improve.