Young Llama Thoughts
Adventurous

Christian Friendly

Easy Reading

Humerous

Youth Appropriate
Overall
4.6 Llamas










Review
I really love this book!!! It's funny, filled with adventure and has a magical stone cursed by some weird ancient being to turn anyone evil in they try to use its mind-controlling powers!!!!! Who wouldn't want to read it! (However, the book does say the stone was cursed by some ancient god to turn people evil…. But has far as I could tell, it wasn't really like that. Though the stone is evil and it does talk to people… weird but not creepy magic!)
The book is about this girl who has grown up with her world-traversing archaeologist dad, but then one day he goes on an adventure and everyone thinks he's dead. Except Lola… She decides to save up enough money to go find her dad; but when word gets out that he was looking for a mythical stone that can control people's minds… She figures that if she is to find him, maybe her new friends can help too!
The book was awesome!!!! And I even enjoyed the magical stone part. (Though it was a little weird that is mentioned gods and goddess') And I would say it's clean and kid-friendly, even with the weird stone.
Over all, a very good book and I totally suggest it! I hope you all have a safe, wonderful day!!!!! -The Young Llama Reader.
Pros
Adventure, action, kidnapping!!!!!!
A great book for kids and teens!!!!!
Cons
Magic weird stone thing that talks to you…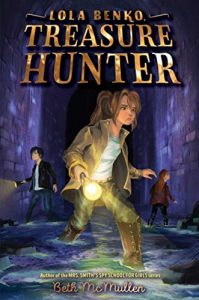 Having a world-traversing archaeologist dad means twelve-year-old Lola Benko is used to moving around and not putting down roots anywhere. But every day and every hunt for something hidden is an adventure, and no matter what, she and her dad are an unbeatable team.
Then her father disappears. The official story is that he was caught in a flash flood, but Lola's research shows the day in question was perfectly pleasant. And it will take more than empty reassurances from suspect strangers for Lola to give up on her dad. She has a feeling his disappearance has to do with a mythical stone he was studying—a stone so powerful, it could control the world. But in the wrong hands, it could end it, too…
With the help of some new friends at her school, it's up to Lola to go on the most important hunt of her life.
Was this post helpful?
Let us know if you liked the post. That's the only way we can improve.