Young Llama Thoughts
Adventurous

Christian Friendly

Easy Reading

Humerous

Youth Appropriate
Overall
3.4 Llamas










Review
I got this book mostly because it was about a girl who runs her own book store! (Which is my dream job!!!! One day Young Llama Books will exist…) And I did enjoy it, but even though it's by Baker Book House (which is a Christian book company) it wasn't really Christian. It's not bad, just 15 and up.
The book is about a woman who is hiding from her past. Both of her parents are in jail and she is trying to stay out of the spotlight. But when things start slowing down in her bookstore, and she starts receiving some of her old books form an old flame… Life gets interesting pretty quick!
The book was pretty good, but there is mention of adult stuff. The book goes back and forth with her past and present. In her past she kind-of liked this boy who was helping her. They go on this road trip together, (already an horrible idea) but no inappropriate stuff happens. They only kiss, and they share a room. (But NOTHING happens. No "Bleh!" they only go to sleep.) She also has this friend who is kind-of an alcoholic and very much a flirt to random men. And the book keeper also gets randomly kissed by a drunk guy on 4th of July. Nothing happens that's it.
It is also mention of murders and such… (Not much violence but it is mentioned.)
Over all, I actually enjoyed this book. I would suggest it to girls 15 and up and I hope you all have a great day! -The Young Llama Reader.
Pros
Ok book for 15 and up girls.
Mystery, action and BOOKS!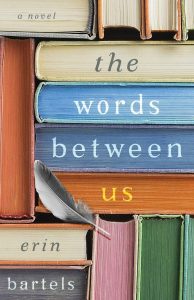 Robin Windsor has spent most of her life under an assumed name, running from her family's ignominious past. She thought she'd finally found sanctuary in her rather unremarkable used bookstore just up the street from the marina in River City, Michigan. But the store is struggling and the past is hot on her heels.
When she receives an eerily familiar book in the mail on the morning of her father's scheduled execution, Robin is thrown back to the long-lost summer she met Peter Flynt, the perfect boy who ruined everything. That book–a first edition Catcher in the Rye–is soon followed by the other books she shared with Peter nearly twenty years ago, with one arriving in the mail each day. But why would Peter be making contact after all these years? And why does she have a sinking feeling that she's about to be exposed all over again?
With evocative prose that recalls the classic novels we love, Erin Bartels pens a story that shows that words–the ones we say, the ones we read, and the ones we write–have more power than we imagine.
Was this post helpful?
Let us know if you liked the post. That's the only way we can improve.