Young Llama Thoughts
Adventurous

Christian Friendly

Easy Reading

Humerous

Youth Appropriate
Overall
4.7 Llamas










Review
LOVE!!!!!! I ADORED the 1st book of this series and I REALLY adore this book as well! I am slowly becoming obsessed with any book about the sea! From Atlantis to Captain Nemo, I'm in LOVE! And this series is soooooo good for kids!
This book is about Gabriel Nemo a great-great-GREAT grandson of Captain Nemo. In book 2 (this one) his mother is captured and they demand an ancient device that Captain Nemo made. The only option is to find his long lost ship… The Nautilus…
This book was sooooooo good and VERY action packed!!!! I was on the edge of my seat the entire time reading it!!!!!! From ocean to ocean. Danger to electric eel's! Awesomeness to even more awesomeness!!!! This books has it all!!!!!!!  Fighting, ships sinking, recuses and danger. Ancient treasures, hidden ships, and daring rescues I give this book a 5 star for any kid!!!!!
Over all, I have no con's. I mean there are deadly eel's and sinking ships. But what 8 year old boy wouldn't love it?!!?! Have a fantastic day! -The Young Llama Reader.
Pros
AWESOMENESS!!!!
A super great book for kids and teens!
Very clean and kid-friendly!
Cons
Super awesome sea-monsters!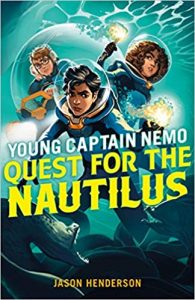 Armed with his wits, his friends, and his Nemotech submarine, a twelve-year-old descendant of Jules Verne's famous antihero must race against the clock to save his kidnapped mother in Quest for the Nautilus: Young Captain Nemo, the second installment in Jason Henderson's action-packed middle grade series…
Gabriel Nemo has never been your normal, everyday twelve-year-old. As a descendant of the famous Captain Nemo, he's determined to use his Nemotech legacy for good. He and his best friends Peter and Misty spend their days studying at the elite Nemo Institute and in their spare time, run rescue missions in Gabriel's submarine The Obscure.
But when a mysterious organization using advanced technology attacks the Institute and kidnaps Gabriel's mother, he and his friends set off on a race against the clock. They must find Captain Nemo's long-lost ship, The Nautilus, before his mother's time runs out!
Was this post helpful?
Let us know if you liked the post. That's the only way we can improve.