Young Llama Thoughts
Adventurous

Christian Friendly

Easy Reading

Humerous

Youth Appropriate
Overall
4.3 Llamas










Review
My good friends, Callie, Claire and Sophie, introduced me to this series and I have been borrowing them ever since! And I must say I'm very much enjoying them!!!!!!
This series is about these 3 orphans trying to find their new home while running from the evil Count Olaf! Along the way they seem to make trouble where ever they go!
There is a lot of sarcasm and dry humor in the book that some kids might not get, (I get though! 🙂 ) however the humor of the book really drives it home!!!! There is a little bit of violence in it as well. People falling out of windows, boats… And an evil Count trying to kidnap the kids and steal their inheritance. But other than that, it is very clean!
Over all, if you are looking for a book that is filled with dry humor, action and a whole lot of unlucky adventure! Then this is the book for you!!!! -The Young Llama Reader.
Pros
A very different series that really shines is a very sarcastic way!
Kid-friendly.
Cons
Some violence and a few people die.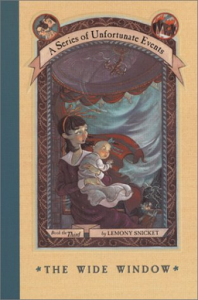 The 3rd book in The Series of Unfortunate Events.
Was this post helpful?
Let us know if you liked the post. That's the only way we can improve.