Young Llama Thoughts
Adventurous

Christian Friendly

Easy Reading

Humerous

Youth Appropriate
Overall
4 Llamas










Review
Ok, I ADORE the movie Penelope! (And of course I adore her outfits in the film!!!!) So when I found out there was a novel, I almost lost my crown!!!!!!! And I went and got it… and read it in 2 hours… Don't judge me it was only 240 pages!!!!
Penelope is like any normal girl. Except she has never left her house, has never hung out with kids her age, the world doesn't know she exists, and her family was cursed so she has the face of a pig. The only way to break the curse is for a blue-blood like her to marry her and except her for herself. But a reporter and a gambler hoping to snap a picture of her face might be the very thing Penelope needs to free herself and see the world!
This movie is sooooo cute! It's very clean, young girls would love it! And has such a sweet message of loving yourself just the way you are! There is a witch who curses the family, there is more mention of her in the book. But nothing creepy or anything. Her daughter was in love with Penelope's great-something grandfather and threw herself off a cliff in despair so the witch got revenge. 2 people do the cliff thing in the book, only the daughter does it in the movie. You don't see it, just her falling forward. Nothing really described. (Course it's still depressing…) So the "magic" in the movie is just the curse.
However, I do need to mention something in the book which was NOT in the movie. There is 2 mentions of LGBT in this book. I do not dislike LGBT people but I don't support them. This was not in the movie and I wish they left it out of the book, but people are gonna be people. It is 2 sentences so they could of just left it out!
Over all, this is a very sweet fairy-tale that I totally suggest. (Both the book and the movie!) And I think it is very clean for Christians as well. (Even with the 2 sentences, just get a pen and cross them out.) Have a Hat-tastic day!!!! -The Young Llama Reader.
Pros
A fantastic movie and book!!!!
LOVE!!!!!
So cute!!!!
Cons
There is a witch…
2 mentions of people dying…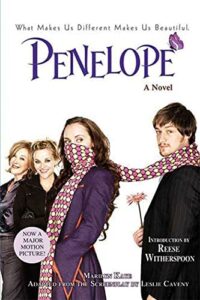 Penelope Wilhern has everything a girl could want: A wealthy, socialite family, an enchanted bedroom and some of the coolest clothes around. There is only one problem: She was born into a cursed family and has the face of a pig.
Hidden away from the world, Penelope now finds herself subjected to a string of snobby, blue-blooded bachelors in a desperate attempt to find her a husband in order to break the curse. Though she yearns for something greater, what's a girl to do when faced with a determined mother and her matchmaking sidekick? Hoping to snap a photo of the mysterious girl, mischievous tabloid reporter Lemon hires down-on-his-luck Max to pose as a prospective suitor and infiltrate the family. But when Max finds himself truly drawn to Penelope, he can't bring himself to expose and disappoint her, so he just disappears. Fed up with this latest betrayal and determined to live life on her own terms, Penelope decides to break free from her family and go out into the world in search of adventure. Hiding her true identity with a scarf, Penelope discovers a wondrous world where freedom opens her eyes to possibilities she never knew existed. Making new friends along the way, she discovers happiness in the most unexpected places.
Was this post helpful?
Let us know if you liked the post. That's the only way we can improve.