Young Llama Thoughts
Adventurous

Christian Friendly

Easy Reading

Humerous

Youth Appropriate
Overall
4.2 Llamas










Review
You know how every-now-and-then you get a book that you don't except to be good, but it's extremely good?! That was the case with this book! I got it used from a garage sale, and now I can not wait to read it again!
This book is about a girl who has felt like she has never belonged anywhere. Not with her guardian who doesn't like her, not at her fancy school that she's too poor for, but there is a place she longs for. A winter woods in Russia filled with mysteries she can't seem to remember. And then she and her 2 friends get a chance to go to a place in Russia, she feels like she might just get a chance to find out who she is. But when the broken down place isn't what she excepted, the crazy princess isn't who she thought and the howling wolves aren't what they seem. Will she find herself in the chaos?
I really enjoyed this book! It was fun, interesting, filled with mystery and enough snow that made me wish I was there! The book is very clean, though there is some violence and 1 "D" curse word. It is a Russian story that almost feels like Anastasia. So there is mention of the Russian royal family getting shot, and dangerous wolves. Some blood is mentioned, plus how to kill a wolf. Other than that, it is very clean and interesting to read!
Over all, this is a great book for any girl who loves an almost fairy tale, and one I totally suggest! (As long as you are ok with some violence and suspense.) Happy Readings! -The Young Llama Reader.
Pros
A great Russian story for any girl who loves wolves!
Almost a magical feel to it!
Fairy tale-ish!
Cons
Some violence.
1 Curse word.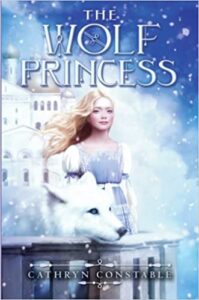 A captivating, atmospheric mystery set in the crystalline winterland of Russia.
Abandoned in a blinding blizzard in the wintry wilds of Russia, Sophie Smith fears for her life. But just like in a fairy tale, a princess comes to her rescue: the beautiful, exotic Anna Volkonskaya. Over a river of ice in a horse-drawn sleigh, she brings Sophie and her friends to a magnificent, if weathered, winter palace.
At first, Sophie is enchanted by Princess Anna's stories of long-ago royalty, of white wolves and gray diamonds. But when the princess takes a particular interest in her, Sophie grows concerned. What is her place in the sinister mystery that surrounds her? Even as the wind and wolves howl outside, is she more in danger now, a prisoner of the palace, than she ever was lost in the snow?
Was this post helpful?
Let us know if you liked the post. That's the only way we can improve.