Young Llama Thoughts
Adventurous

Christian Friendly

Easy Reading

Humerous

Youth Appropriate
Overall
4.1 Llamas










Review
I don't know if you know this, but I LOVE sport books!!! Mostly football, (Which is weird, cause I don't know anything about football) but I also do like basketball and baseball too! And this is one of my new favs!!!!!
The book is about a boy from Cuba who's family moved to America with his dad and brother. And he loves to play baseball, but when his dad dies and him and his 17 year old brother are on their own things start getting interesting.
The book was very clean, and pretty kid-friendly too! The boy and his brother do lie to the "Official People" but that's not really a 'con'. The book is a good book for kids and teens. And girls and boys as well!
Over all, this is a pretty good book for kids and teens and I do suggest it. I hope you all have a great day! -The Young Llama Reader.
Pros
A great sport book!
Good for both boys and girls!!!!
Cons
His dad does die in the book…Very sad.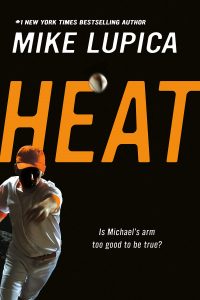 Michael Arroyo has a pitching arm that throws serious heat along with aspirations of leading his team all the way to the Little League World Series. But his firepower is nothing compared to the heat Michael faces in his day-to-day life. Newly orphaned after his father led the family's escape from Cuba, Michael's only family is his seventeen-yearold brother Carlos. If Social Services hears of their situation, they will be separated in the foster-care system—or worse, sent back to Cuba. Together, the boys carry on alone, dodging bills and anyone who asks too many questions. But then someone wonders how a twelve-year-old boy could possibly throw with as much power as Michael Arroyo throws. With no way to prove his age, no birth certificate, and no parent to fight for his cause, Michael's secret world is blown wide open, and he discovers that family can come from the most unexpected sources.
Was this post helpful?
Let us know if you liked the post. That's the only way we can improve.