Young Llama Thoughts
Adventurous

Christian Friendly

Easy Reading

Humerous

Youth Appropriate
Overall
4.5 Llamas










Review
Tim Green writes some of the best sport books! Mike Lupica and Tim Green are the 2 authors I suggest for any sport-related books!!!! They write funny, clean, kid-friendly books perfect for boys 8 and up!
This book is about a 12 year old boy that wishes with all his heart to play football. Even though he is small, he is determined to try! But everything changes when the father he never knew suddenly dies. Now Ryan in introduced into a different kind-of world; one where he is the Kid-Owner of the Dallas Cowboys! But with his half-brother trying to take it away from him, his only gift from his dad might not be his for long…
This book was amazing! It was fast-paced and filled with a fantastic story that boys 8 and up would love! It's funny, entertaining and has a great message about working for what you want, and giving up the spotlight to win. I just loved this book and I think any kid would enjoy it if they like sports. (Or like me, they might not like sports, but love a good novel!)
There only 'cons' in the book is the mention of football violence and rough family problems. Nobody gets seriously hurt, but people do get slightly bulldozed down but football players. Also there is some family tension in the book, but just more mentioned than anything else.
Overall, this book is amazing! I just adore it and totally suggest it to boys 8 and up looking for a fun football read! It would also make a great Christmas gift!!! (Hint hint to the parents out there ;)) -The Young Llama Reader.
Pros
A fantastic story for boys 8 and up!
Very clean, funny and totally worth it!
A wonderful book on forgiveness and hope!!!
Cons
Some football violence…
Mention of rough family situations…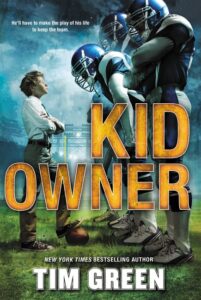 From
New York Times
bestselling author and former NFL player Tim Green comes a riveting stand-alone football novel about being a leader and finding your inner strength. Perfect for fans of Mike Lupica.
When Ryan's estranged father unexpectedly dies, Ryan learns that he has inherited the Dallas Cowboys football team. With his new role as owner of this NFL team, Ryan has high hopes that he can be more than just a middle school misfit. Maybe he can even get off the bench and into the starting lineup of his own football team.
With the help of his friends Jackson and Izzy, Ryan takes advantage of his newfound stardom. He convinces his coach to use a tricky passing offense that plays to Ryan's strengths. But just when things are looking up, Ryan's nasty stepmother makes a legal play to make her own son the Cowboys' kid owner. With drama heating up both on and off the field, Ryan quickly realizes he may lose much more than just the Dallas Cowboys.
Was this post helpful?
Let us know if you liked the post. That's the only way we can improve.