Young Llama Thoughts
Adventurous

Christian Friendly

Easy Reading

Humerous

Youth Appropriate
Overall
4.4 Llamas










Review
So, per-usual I read the 2nd book in this series first and thought it was the only book for the longest time… Turns out there was a 1st! (Who knew?!?) And I loved this book just as much as the 2nd!!!!!
This book is about Migs, a girl in a family that has an interesting gift. When a Beaumont turns 13 they receive their Savvy! A magical talent unique to them. But when Mibs turns 13 her father gets in an accident and is on his way to the hospital. Hoping her Savvy will save him, she and her friends hitch a ride filled with adventure, friendship and lots of talking ink!
This book was great! The story line was very interesting and I loved how the Savvys or gifts weren't described as magic, but more of a special talent. However, there are weird Savvys in the family. There's an aunt that sneezes 20 minutes back in time. A semi-invisible boy, and mention of someone able to hear tattoos or ink on skin talk. Almost like she can read you mind. Nothing "voo-dooy" just a Savvy that allows her to hear peoples thoughts.
Over all, besides the weird tattoos, this book is extremely clean and great for kids! I totally suggest it and I will be reviewing the 3rd book soon! -The Young Llama Reader.
Pros
A very clean, very funny kids adventure!
Friendship and family!!!!
Cons
Lots of talk about tattoos and ink on skin…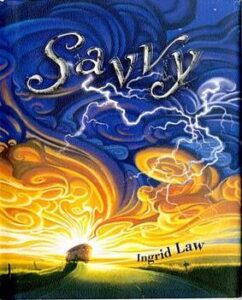 Thirteen is when a Beaumont's savvy hits—and with one brother who causes hurricanes and another who creates electricity, Mibs Beaumont is eager to see what she gets. But just before the big day, Poppa is in a terrible accident. And now all Mibs wants is a savvy that will save him. In fact, Mibs is so sure she'll get a powerful savvy that she sneaks a ride to the hospital on a rickety bus with her sibling and the preacher's kids in tow. After this extraordinary adventure—full of talking tattoos and a kidnapping—not a soul on board will ever be the same.
Was this post helpful?
Let us know if you liked the post. That's the only way we can improve.