Young Llama Thoughts
Adventurous

Christian Friendly

Easy Reading

Humerous

Youth Appropriate
Overall
4.4 Llamas










Review
So, after a week of college stress and homework, I went to my To-be-Read shelf and found a fantastic read!!! Ironically I am not a sports person, but I adore reading sport-themed books! From football to baseball I love them all! And Mike Lupica writes some of the best sports books out there!!!!!
This book is about Nate, and ordinary boy with an ordinary life expect he won a chance to throw a football through a target to win a million dollars. Now his life is a bit upside down when he realizes his family needs the money, his football team is stressing him out, and his best friend in the whole wide world is having her whole life change right in front of her eyes. Nate is trying to piece together his life, but what he really needs right now?… A million dollars…
This book was fantastic! It was interesting, fun to read, had plenty of football action and a great outlook on life. The plot line was amazing, I loved the characters and the story was just plain awesome!!!!!!!!! There are some realistic parts, mention of his parents working twice as hard to save their house, working 2 jobs each, as well as his best friend going through some health issues that could changer her life. I think this book is perfectly fine for boys 10 and up who love a good sport book! As well as being a great book for girls 10 and up who love reading about sports as well!!!
Overall, this book was sooooooo good! It was inspiring, funny, interesting and such a great book for kids! I totally suggest it and I hope you all have a Hat-tastic Day! -The Young Llama Reader.
Pros
A fantastic read for boys 10 and up!!!
Very clean and filled with action!
A wonderful book about friendship!!!
Cons
Some violence from football.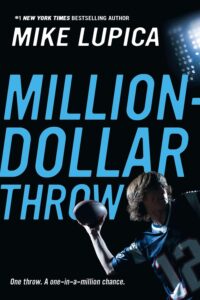 From the #1 New York Times bestselling author of HEAT and TRAVEL TEAM.
Everyone calls Nate Brodie "Brady" because he's a New England quarterback, just like his idol, Tom Brady. And now he's got a chance to win a million dollars by throwing one pass through a target at halftime in the Patriots; Thanksgiving night game.
More than anything, Nate's family needs the money—his dad's been downsized, his mom's working two jobs, and they're on the verge of losing their house. The worry is more weight than a 13-year-old can bear, and it's affecting his playing for his own football team.
Suddenly the boy with the golden arm is having trouble completing a pass . . . but can he make the one that really counts?
Was this post helpful?
Let us know if you liked the post. That's the only way we can improve.