Young Llama Thoughts
Adventurous

Christian Friendly

Easy Reading

Humerous

Youth Appropriate
Overall
3.7 Llamas










Review
Ok I caved… I was going to try not to buy too many more hardback books due to my bookshelf bending under the weight of 600 books… But I just LOVE Enola Holmes and I couldn't wait a year to buy it in paperback!!!!!!! Oh well…
This book is about the younger sister of Sherlock Holmes. Enola has been running her own detective agency for some time now, but when a man barges in desperate to find his missing friend and then insults her and leaves almost immediately she decides to find the missing person on her own. Even if it means working with (and against) her brother Sherlock. But with missing witnesses, rabid dogs, strange clues and danger around every corner, Enola isn't so sure she will find this missing person in time…
This book was pretty good. However, it wasn't one of my favorite Enola Holmes. The book is pretty clean. Girls 14 and up is who I would suggest this series too. It does have fantastic mystery, fun action, exciting adventure and funny sibling rivalry. But it had some weird parts as well.
There is a LOT of talk about rabies. From how animals get it, to how people get it, to how people kill off anything that even might have rabies… There is talk of bites, stoning, killing and such. Mention of animals with rabies that are in cages with other animals… Lots of talk about the cure of rabies as well. Turns out how the cure for rabies was found was by using the brain and spinal cord of the rabid infected animal for medicine. (And that's fine and all, if not gross. But I was reading this lovely part at 11:30 at night when I found out how they dried the spines… In warehouses from the ceiling… Brains and spines dangling from the ceiling people!!!! That is soooooo wrong…)
There is also weird talk of two guys having a reeaallyy close friendship. Nothing ever happens, and they aren't 'together' or anything, they just had "bomance"… Think like super best friends who love each other and would do anything for each other. But their poets who describe it weird. (Does that make sense?)
Overall, this book was pretty good not my favorite but I would still suggest it. I TOTALLY suggest the Enola Holmes series and I really hope the author writes more soon!!!!!! Have a Blessed day! -The Young Llama Reader.
Pros
A fantastic series!!!
Mystery, adventure and action!!!
A great read for girls 14 and up!
Cons
Mention of violence and rabies…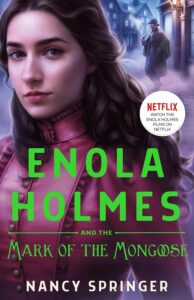 In May of 1890, Enola Holmes is finally fully on her own and, no longer hiding from her older brothers Sherlock and Mycroft, attending classes and occasionally pursuing her chosen profession as a scientific perditorian, a finder of lost things and people.
Wolcott Balestier, the representative of an American book publisher, arrived in London on a singular mission―to contract with English authors for their latest works. When Balestier disappears on the streets of London one day, his great friend―Rudyard Kipling―bursts into Enola's office looking for help in finding him. Brash and unwilling to hire a young woman, instead he turns to Sherlock Holmes. Convinced that evil has befallen Balestier, at the hands of rival American publishers who pirate the works of English authors, he sets the elder Holmes on the trail.
But Enola is not one to accept defeat, especially not to her brother, and sets off on her own―determined to learn the truth behind the disappearance of the young American. Can book publishing truly be so ruthless and deadly or can the missing man be rescued from his apparent fate and returned to his friends and loved ones?
The redoubtable Enola is determined to do just that, even if it means working with her brother Sherlock!
Was this post helpful?
Let us know if you liked the post. That's the only way we can improve.