Young Llama Thoughts
Adventurous

Christian Friendly

Easy Reading

Humerous

Youth Appropriate
Overall
4.6 Llamas










Review
Every now and then you can find a book like this. There isn't any weird stuff, violence or creepy magic. Just a book, about a town, where a little girl wants to find out how the Miracles of the town work. Simple and perfect!
This book is about this young girl who loves to make movies! With a dream that one day she will make movies with her famous father in them. She takes on the quest to find out why her town has miracles. It seems simple at first, but with her friendships in trouble, her documentary about the miracles not working out, lying to her mom about her father, and buried treasure to top it all off! Will she uncover the secret? Or will this Miracle mystery remain unsolved?…
This book was super fun and very interesting! Plot line, love. Characters, Love. The book? LOVE! My only "con" for the book would be that the girl is in to lots of old movies including horror. Nothing is ever described; just mentioned here or there that she likes them. (I don't know why anyone would like a horror movie, but oh well!)
Over all, I suggest this books to kids 8 and up. If you are looking for a book that's real-world with a sprinkle of magic? This is the book for you. Have a "Magical" Day! -The Young Llama Reader.
Pros
A good book about love, family, friends and Miracles!
Great for kids and teens!
Super clean, kid-friendly and very interesting to read!!!!
Cons
Mention of horror movies.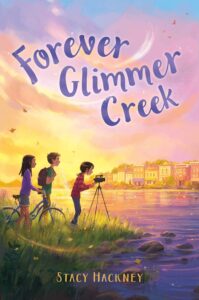 Gilmore Girls meets A Snicker of Magic in this sweet debut novel about twelve-year-old Rosie Flynn, whose film-making skills may be the answer to uncovering the miracles of her town and bringing her father home.
There's no accounting for Miracles, at least that's what the folks of Glimmer Creek say. Every year, one lucky inhabitant survives danger, and bits of magic cling to them for a lifetime.
Rosie Flynn doesn't know how to get a Miracle but knows for sure they're real. It's the same way she's certain she'll always have her two best friends, Henry and Cam, that she'll be a famous film director someday, and that she and her Mama are the perfect team of two.
But when someone Rosie loves goes missing, she just might discover that the true Miracle of Glimmer Creek is much different than she'd always believed and that the relationships she holds dear are the most fortunate gift of all.
Was this post helpful?
Let us know if you liked the post. That's the only way we can improve.