Young Llama Thoughts
Adventurous

Christian Friendly

Easy Reading

Humerous

Youth Appropriate
Overall
3.9 Llamas










Review
Happy November my Llamaings!!!! I have survived my week of essays, exams, projects and more! And now it is time for more books!!!! This is one of my mother's favorite books and I can see why; with adventure, romance, action and mystery this book is totally awesome!!!!!!
This book is about a treasure hunter trying to save his business and family, and a historian on the trail of her ancestor's lost ship. To team up they will have to face danger, murders, hidden traps and the danger of losing their hearts all to find the greatest nautical discovery of their lives!!!!
This book was sooooo good! It had romance, danger, pirates, and a great Christian-outlook throughout the whole book! There is mystery, action and plenty of awesomeness!!!!!! I really loved this book and I want to read the rest of the series immediately!
There is some violence in the book. People get injured, kidnapped, shot, talk of blood and murder. And there is the mention of idea of some adult topics but nothing is really described. Just talk of people creepily staring at others, and mention of stalking. Also some mention of 2 people being in love and being careful. That's why this book is for girls 14 and up. There is just the idea of temptation but nothing happens.
Overall, I really enjoyed this book! It was fantastic and I can't wait for to read the rest of the series!!!!!!! I hope you all have a beautiful fall day, and keep a look out for my Christmas Book List! It's almost time for snow, presents and the Joy of the Holidays!!!!!!! -The Young Llama Reader.
Pros
A fantastic read for girls 14 and up!
Very clean, Christian-friendly and totally worth it!!!
Cons
Some violence and mention of adult topics…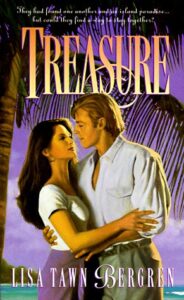 Book 4 of the Best-selling Full Circle Series
A dangerous search for an ancient ship leads to a heart's treasure beyond price.
Ever since her days as an undergrad student at Harvard, where she roomed with Bryn Bailey (
Pathways
)–nautical archaeologist Dr. Christina Alvarez has been obsessed with finding her ancestor's sunken treasure ship and striking underwater gold.
Determined to achieve her goal, Christina has traveled to the Caribbean island of Robert's Foe, where treasure hunter Mitch Crawford–the one man who can assist her–refuses to help. But Christina's fight to win Mitch over may lead them both to a Treasure more valuable than either one of them ever dreamed.
Was this post helpful?
Let us know if you liked the post. That's the only way we can improve.