Young Llama Thoughts
Adventurous

Christian Friendly

Easy Reading

Humerous

Youth Appropriate
Overall
4 Llamas










Review
I loved this book! Such a great, heartwarming story about a lonely, introverted young woman that finds new meaning in life.
This book is about a young women who researches for a living. When she sees an article with a list on 31 ways to be happy, she decides to prove it wrong. But when the list starts leading her to new friends and experiences she might have to look at her life in a whole new perspective, and realize maybe happiness really is worth working for.
Fantastic characters made this a very fun read, and Isadora's journey makes you stop and think about the "why" moments in life. DEFINITELY going on my list of super fun books that must be re-read!
This book may be more appropriate for ages 16 and up due to some slightly more mature topics, but is overall  very clean and Christian-friendly.
It is a wonderful, inspiring story with a great redemptive ending. Read and enjoy!
-The Turtle Reader
Pros
Very funny
Heartwarming story
Great characters
Good romance
Christian-friendly
Cons
The book had to end – no fair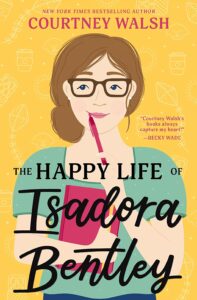 She's out to prove that there's no such thing as choosing happiness.
Isadora Bentley follows the rules. Isadora Bentley likes things just so. Isadora Bentley believes that happiness is something that flat-out doesn't exist in her life—and never will.
As a university researcher, Isadora keeps to herself as much as possible. She avoids the students she's supposed to befriend and mentor. She stays away from her neighbors and lives her own quiet, organized life in her own quiet, organized apartment. And she will never get involved in a romantic relationship again—especially with another academic. It will be just Isadora and her research. Forever.
But on her thirtieth birthday, Isadora does something completely out of character. The young woman who never does anything "on a whim" makes an impulse purchase of a magazine featuring a silly article detailing "Thirty-One Ways to Be Happy"—which includes everything from smiling at strangers to exercising for endorphins to giving in to your chocolate cravings. Isadora decides to create her own secret research project—proving the writer of the ridiculous piece wrong.
As Isadora gets deeper into her research—and meets a handsome professor along the way—she's stunned to discover that maybe, just maybe, she's proving herself wrong. Perhaps there's actually something to this happiness concept, and possibly there's something to be said for loosening up and letting life take you somewhere . . . happy.
Was this post helpful?
Let us know if you liked the post. That's the only way we can improve.