Young Llama Thoughts
Adventurous

Christian Friendly

Easy Reading

Humerous

Youth Appropriate
Overall
3.9 Llamas










Review
This book was sent to me by Baker Book House and honestly I really enjoyed it! When I first got it, I wasn't that into in just because the story had a slow build up. However, when I kept reading the story pulled me deeper into a fantastic read!!!
This book is about a young women trying to move on from a life she would rather forget. Her mother has passed, she broke up with her fiance and she has inherited her grandparents old lodge with all the bitter secrets to go with it. But with the help of new friends, new family and an unexpected romance, she might just be able to let go of the past and move on to a brighter future!
This book was super sweet! It had a slow build up, but once you get past the first few chapters you are pulled in to the sweetest town filled with the sweetest people! I loved the humor in it, as well as the forgiveness focus point that is throughout the whole book! There is an adorable romance in it, but it is not mentioned as much. It's more of a side note to the story.
There is some mystery and problems in the book. Family secrets that are scandalous and such. As well as a lot of mention of people dying and moving on, which will make you tear up a bit. There is also a tornado that wreaks some plans, but that doesn't really count as violence so much as a natural problem.
Over all, this book is super sweet and very cute! I love the over all theme of forgiveness in the book and the sweetness of the characters! This is a fantastic novel for ladies 16 and up! May you all have a Hat-tatsic day! -The Young Llama Reader.
Pros
A great novel for young ladies 16 and up!
Clean, Christian-friendly and funny!
A sweet story for any romance reader!
Cons
Mention of death and betrayal…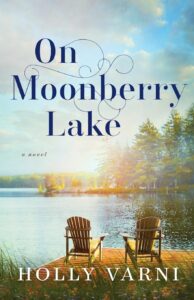 Cora Matthews's life is a mess. A broken engagement and the unexpected death of her mother have left her wondering if things will ever return to normal. Whatever "normal" is.
It certainly isn't what she finds at Moonberry Lake. After she receives her family's dilapidated lakefront lodge as an inheritance–with a surprising condition attached–Cora finds her life overrun by a parade of eccentric neighbors who all have something to say and something to teach her.
As Cora works to put her life back together, she must decide if she is willing to let go of the past, open her heart to love, and embrace the craziest version of family and home she could ever have imagined.
Was this post helpful?
Let us know if you liked the post. That's the only way we can improve.