Young Llama Thoughts
Adventurous

Christian Friendly

Easy Reading

Humerous

Youth Appropriate
Overall
4.4 Llamas










Summary
I loved this book. I honestly couldn't put it down. Continuing the story from The Princess Companion, book 2 proved to be even better. I don't want to spoil anything, since this book is directly connected to book 1, so I'm going to keep this review to only general things you should know.
This story is supposed to be about Little Red Riding Hood. But to be honest, this book isn't like the famous fairytale. Although there are mentions of wolves and a red hood, this book is a different story entirely. The girl in this story is on the run. Her family is after her and the only one she trusts is her loyal bodyguard. She'll have to face her crimes and former enemies to take back her kingdom and to become the true ruler she is meant to be.
This book is very clean, and great for girls ages 14 and up. Unlike the first book in the series, this one has many more Christian aspects to it. Both the girl and her guard go through a God moment and see what they are meant to do in their lives. There is much more mention of the High King. (He represents God in the series.) As for violence or things to be aware of, this story does have a little more violence than the last. There are some assassinations and duels, but the author is very good at not mentioning too much blood. Other than that, nothing stood out to me.
Overall, this story is romantic, adventurous, and one of new favorites to read. Although it's not really about a girl in the red hood headed to grandma's, this story is so much more enjoyable. I absolutely recommend it, however, this story is directly connected with the first book, so I would suggest reading book 1 first.
I hope you enjoyed my review! And if you would like to read my review for the first book, just look for The Princess Companion on the website. Until next time!
– The Tiger Reader
Pros
Great Characters
Adventurous
Romantic
Perfect for teen girls
Christian Friendly
Very Clean
Cons
More violence than book 1
It's not really about Little Red Riding Hood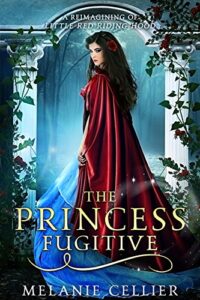 Princess Ava used to be a weapon–sharp, strong and beautiful. But when she fails at her most important task, she's forced to flee from her own family.
Only her personal bodyguard, Hans, remains loyal. Hans claims to know the real Ava but she finds that hard to believe–after all, she's been the villain so long that she can't remember anything else.
Deep in exile, Ava learns her kingdom needs a hero, and she might be the only one who can save it. The catch? She'll have to ally herself with the people she blames for her downfall.
But in a game of life and death where the stakes are an entire kingdom, winning over her enemies will only be the beginning. Can one fugitive save her people, her kingdom and–hardest of all–herself?
In this reimagining of the classic fairy tale, Little Red Riding Hood, the girl in the red hood has been swallowed up by the wolf and must decide if she's willing to fight for her freedom, no matter the cost.
Was this post helpful?
Let us know if you liked the post. That's the only way we can improve.