Young Llama Thoughts
Adventurous

Christian Friendly

Easy Reading

Humerous

Youth Appropriate
Overall
3.9 Llamas










Review
Ok ok! Something you may not know about me is that I LOVE a good heist book or movie. (The crazier the heist the better!) I can't seem to control myself when I see a spy or criminal book filled with robberies. So this book I adored and absolutely will be reading this again very soon.
This book is about a newbie CIA officer who is trying to put her past behind her and start fresh. But when her first assignment leads her to a dangerous defense technology that someone seems to be trying to get, and she has to trust a man who seems to know more about her than she wants; she realizes she may have to dig up her old life to fight for her new life.
This book was AMAZING!!!! There was action, suspense, murder, teamwork, betrayal and just plain awesomeness. It has quickly settled on my favorite shelf and I totally suggest this book to young adults who love a good heist! (Key word there, adults. It's not that this book was anything appropriate or super bad in it. It was just written for adults. There is some mention of murder, people dying, blood and such… Plus the adults in the book do mention some adult stuff once or twice… So 18 and up!)
Over all, I REALLY liked this book and I totally suggest it! Like seriously please read this book!!!!!!! You will not regret reading it, it is just soooooooo cool!!!! (I seriously just love a CIA heist book, and this one was just so good I didn't want it to end) Have a hat-tastic day! -The Young Llama Reader.
Pros
A very clean read for young adults!
So interesting and fun!
A very well written book!!!
Cons
Lots of violence and people getting hurt…
Not a kids book…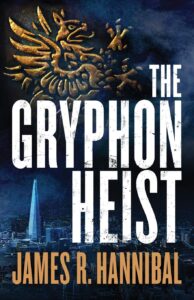 Talia Inger is a rookie CIA case officer assigned not to the Moscow desk as she had hoped but to the forgotten backwaters of Eastern Europe–a department only known as "Other." When she is tasked with helping a young, charming Moldovan executive secure his designs for a revolutionary defense technology, she figures she'll be back in DC within a few days. But that's before she knows where the designs are stored–and who's after them. With her shady civilian partner, Adam Tyler, Talia takes a deep dive into a world where only criminal minds and unlikely strategies will keep the Gryphon, a high-altitude data vault, hovering in the mesosphere.
Even Tyler is more than he seems, and Talia begins to wonder: Is he helping her? Or using her access to CIA resources to pull off an epic heist for his own dark purposes?
In this Ocean's Eleven-meets-Mission Impossible thriller, former tactical deception officer and stealth pilot James R. Hannibal offers you a nonstop thrill ride through the most daring heist ever conceived.
Was this post helpful?
Let us know if you liked the post. That's the only way we can improve.