Young Llama Thoughts
Adventurous

Christian Friendly

Easy Reading

Humerous

Youth Appropriate
Overall
4.4 Llamas










Review
I don't usually read classics, but I saw one of the movies for this book and fell in LOVE! And when I fall in love with a movie, I HAVE TO find the book!!!!!!!!!
The book was very good! It is about 4 sisters and their family, friends and lives together! The story follows Jo's, Meg's, Beth's and Amy's lives as they go on adventure after adventure, find trouble after trouble and find love in every crisis!
I actually really love the book! Though the one I got was actually only the first part of Little Women. (I had to go find my moms collection to finish the book!) The book was very fun and cute to read, though there was some parts that felt slow. Usually those parts were just the little glimpses of their lives, and they were fun just not very action packed… And there was one or two sad parts that I might-of cried at.
Over all, this book is a wonderful read for girls and ages!!!!! It is a classic for a reason!!!! I suggest this to any little girl, older girl, and women who do love re-reading a childhood classic! Have a wonderful day!!!! -The Young Llama Reader.
Pros
A very good ready for young girls and older girls!!!
A Historical Classic!
Cons
Does have a few sad parts…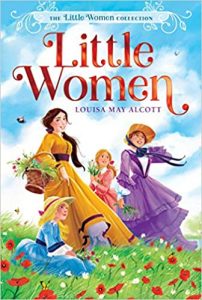 Little Women follows the lives of the four March sisters—Meg, Jo, Beth, and Amy—and details their passage from childhood to womanhood. It is loosely based on the lives of the author and her three sisters. Little Women was an immediate commercial and critical success.
The novel addresses three major themes: "domesticity, work, and true love, all of them interdependent and each necessary to the achievement of its heroine's individual identity." According to literary historian Sarah Elbert, Alcott created a new form of literature, one that took elements from Romantic children's fiction and combined it with others from sentimental novels, resulting in a totally new format. Elbert argues that within Little Women can be found the first vision of the "All-American girl" and that her various aspects are embodied in the differing March sisters.
The book has been translated into numerous languages, and frequently adapted for stage and screen.
Was this post helpful?
Let us know if you liked the post. That's the only way we can improve.