Young Llama Thoughts
Adventurous

Christian Friendly

Easy Reading

Humerous

Youth Appropriate
Overall
3.9 Llamas










Review
This book is one that I got from Tyndale's Reader Rewards Club!!! Tyndale has an absolutely fabulous reward program where you take quizzes and do reviews for points and can earn free books!!!! (Totally suggest doing it!) This is the 3rd book I have gotten from the program and I LOVE IT!!!!!
This book is about an Olympic skier trying to get back on top and a brand new floral shop owner trying to make her mom proud. Stuck in the small town of Harbor Pointe on community service, Grady doesn't care about anything except to get back on the US Olympic team before it's too late. But the only way out of the small town is to help Quinn renovate her mother's old flower shop and help her let go of all the hurt she has kept bottled up. Perhaps they can work together to fulfill both of their dreams and learn to let go of their old fears.
This book was sooooo sweet! The romance was very clean and too cute! And I just love the story line!It is a great novel with a wonderful story and fantastic characters that will keep you reading till the very end! (Seriously I did not want to put it down!)
There is some adult topics in the book. Mentions of those who are famous making bad decisions and partying a bit too much. So this book is for young ladies 18 and up. Nothing is described, but topics are mentioned and brought up. There is also some mention of cuss words. (I only saw 2 that started with C.)
Over all, this novel is soooooo good! I loved it, my mom loves it, (she stole it from me…) and I'm sure you will love it too!!!!!!!!!! I really enjoy books by this author and will be looking for more very soon! Later my Llamaings! -The Young Llama Reader.
Pros
A very good read for young ladies!!!!
Funny, romantic and a fantastic story!!!!
Cons
Not a kids book…
Some violence…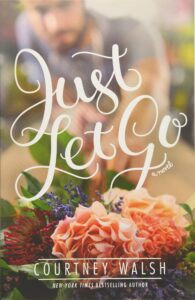 For Quinn Collins, buying the flower shop in downtown Harbor Pointe fulfills a childhood dream, but also gives her the chance to stick it to her mom, who owned the store before skipping town twenty years ago and never looking back. Completing much-needed renovations, however, while also competing for a prestigious flower competition with her mother as the head judge, soon has Quinn in over her head. Not that she'd ever ask for help.
Luckily, she may not need to. Quinn's father and his meddling friends find the perfect solution in notorious Olympic skier Grady Benson, who had only planned on passing through the old-fashioned lakeside town. But when a heated confrontation leads to property damage, helping Quinn as a community-service sentence seems like the quickest way out―and the best way to avoid more negative press.
Quinn finds Grady reckless and entitled; he thinks she's uptight and too regimented. Yet as the two begin to hammer and saw, Quinn sees glimpses of the vulnerability behind the bravado, and Grady learns from her passion and determination, qualities he seems to have lost along the way. But when a well-intentioned omission has devastating consequences, Grady finds himself cast out of town―and Quinn's life―possibly forever. Forced to face the hurt holding her back, Quinn must finally let go or risk missing out on the adventure of a lifetime.
Was this post helpful?
Let us know if you liked the post. That's the only way we can improve.