Young Llama Thoughts
Adventurous

Christian Friendly

Easy Reading

Humerous

Youth Appropriate
Overall
4.6 Llamas










Review
This book is soooo cute! It's about this girl with cerebral palsy, who has to move to a new town, so her mom can help her grandpa cause he has alzheimer's. So she has to get used to a whole new school, maybe make a few friends and deal with the over all joy of being a teenager.
The book was AWESOME!!!! And really fun to read. There was some mention of things that disabled kids have to deal with; like going to the bathroom and such. But that's was like it.
Over all, a good book I would suggest to kids and teens! I hope you all have a great day!!!!!!!! -The Young Llama Reader.
Pros
An extremely good book!!!
Cons
Talks about disabled people.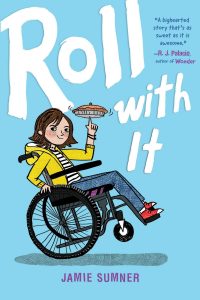 Ellie's a girl who tells it like it is. That surprises some people, who see a kid in a wheelchair and think she's going to be all sunshine and cuddles. The thing is, Ellie has big dreams: She might be eating Stouffer's for dinner, but one day she's going to be a professional baker. If she's not writing fan letters to her favorite celebrity chefs, she's practicing recipes on her well-meaning, if overworked, mother.
But when Ellie and her mom move so they can help take care of her ailing grandpa, Ellie has to start all over again in a new town at a new school. Except she's not just the new kid—she's the new kid in the wheelchair who lives in the trailer park on the wrong side of town. It all feels like one challenge too many, until Ellie starts to make her first-ever friends. Now she just has to convince her mom that this town might just be the best thing that ever happened to them!
Was this post helpful?
Let us know if you liked the post. That's the only way we can improve.