Young Llama Thoughts
Adventurous

Christian Friendly

Easy Reading

Humerous

Youth Appropriate
Overall
3.2 Llamas










Review
This book is the 3rd and final book in the Love and Honor series and was sent to me by Baker Book House for my honest review.
This book is about a young women who runs an domestic abuse shelter for men and women who need help. After surviving her own abusive childhood and losing her sister, she wants to help others find love and peace. But when the handsome doctor who thinks his missing leg can't make him complete enough for a future, starts digging in her past and locates her sister, she has to help protect both of them from the danger that is threatening to break them again…
So I am not a real life fiction kind-of reader. I really like some magical adventure with a happy ending but I fell in love with this series so this book was a must read for me! There is romance, action and a wonderful message about overcoming the hurt of our past. But there is also a ton of violence!
People get abused, hurt, die. Lots of mention getting hit by someone, mention of bleeding, a few minor surgeries and turns out the cartel mob is super violent and likes killing people in horrible ways… (NOT A KIDS BOOK! If you give this to a kid or even to a teen, I will be seriously disappointed in you… 18 and up!)
Over all, this is a great book and 1 I did enjoy, but I did have a harder time finishing it because I had to keep stopping to freak out with every slight mention of blood. Have a great day! -The Young Llama Reader.
Pros
A very heart-warming book!
Christian-friendly!
A great book from Baker Book House!
Cons
NOT a kids book…
Lots of mention of abuse and violence…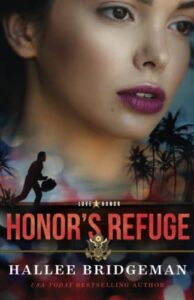 When she was just five years old, Melissa Braxton watched her father take her mother's life. Separated from her sister, Lola, at that time, Melissa grew up with a strong desire to help those stuck in abusive relationships. It's why she became a therapist and opened a domestic abuse shelter.
After losing a leg to a gunshot wound in the line of duty, Phil Osbourne has felt like a man without a purpose–until he hears Melissa's story and decides to use his Special Forces contacts to track down her missing sister. He knows what he discovers will break Melissa's heart. What he doesn't realize is that helping the women reunite will bring the cartel down on them like the category 5 hurricane striking Miami.
Bruised yet not quite broken, Melissa and Phil battle the storm and the cartel, calling on strength they didn't know they had to escape death, save the innocent, and–just maybe–find healing in each other's arms.
Was this post helpful?
Let us know if you liked the post. That's the only way we can improve.