Young Llama Thoughts
Adventurous

Christian Friendly

Easy Reading

Humerous

Youth Appropriate
Overall
2 Llamas










Review
This book was sent to me by Baker Book House for my honest review. And honestly, if you love a book about love, hope and forgiveness through terrible grief this is the book for you. But if you love a book about happiness, humor and love through a joyful fairy-tale adventure this is sooooo not the book for you!
This book is about a women who has lost her memory after a terrible crash that stole her sons life. And it is about her daughter, trying to live through the grief threatening to tear her family apart. With heartbreak, grief and loss this book takes you on a journey of forgiveness through the hardest of times…
This book is depressing… I have read my fair share of heartbreaking novels that lift your spirits and make you cry. But this novel was really just sad and had lots of adult topics that were just depressing. (Maybe it because I like my books to make me smile, but I really did not enjoy this novel.)
This book has lots of mentions of adult topics like 'ape, 'uicide, affairs. There is quite a few mentions of couples being "together". And teens kissing and getting to close. Talk of "heavy" dancing. As well as a spoiler that I think should be mentioned, (SPOILER! Mention of a picture of a teens body that they wouldn't normally show… Not described just mentioned as body parts) 
Over all, this book is just very sad even with the talk of hope and forgiveness throughout it. Not a book I would suggest to anyone who wants an uplifting read. It got 2 stars in my opinion, and I probably won't be reading it again. -The Young Llama Reader.
Pros
A good book about forgiveness and love.
Cons
VERY sad…
Lots of mention of adult stuff…
NOT a kids book…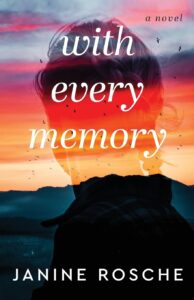 Is the Life She Can't Remember One She'd Rather Forget?
One year after her family was in a tragic car accident that killed her teenage son, Lori Mendenhall returns home with a traumatic brain injury that has stolen the last eight years of memories from her. She is shocked to find that the life she was leading before the accident is unrecognizable. Her once-loving husband, Michael, is a distant workaholic she isn't sure she can trust and her once-bubbly daughter, Avery, has spent the last year hidden away in her room.
For Avery, life stopped when she lost her twin. Now, if she wants to graduate high school, she'll have to accept help from Xander Dixon, her brother's best friend and the boy who relentlessly teased her for years. And if Lori wants to reconnect with her husband, she'll have to grapple with information her brain is trying to keep secret. With every memory that returns, she can't help but wonder if the life she can't remember is one she'd rather forget.
Was this post helpful?
Let us know if you liked the post. That's the only way we can improve.