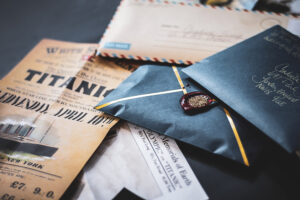 This is letter 14 in the Lost in Time Letter subscription by C. D. Ross and the mystery continues!!!! This letter subscription is one that I totally love and totally suggest. I love mail and I love books, so what is better than letters that are mailed to me telling a story like a book!?!
In this letter I got a fun fact list, a letter from Aubrey to Ethan and a identification card from an employee on the Titanic. If you have been following my reviews so far, then you know that there is some sort of mystery interwoven with the letters and this letter brings more to the story.
This letter from Aubrey is to Ethan, her fiance. In it she writes to him telling him about the Women's Suffrage and how she made it out of the protest unharmed and she is very thankful that he cared so much. She goes on to write about how he will be such a great doctor and doesn't need to worry about anything. That if any men had his heart and love for people then there would be a many great doctors helping the nation. Aubrey then talks about how happy she is that Cordelia and Chadwick are married now! (Too cute!) And how she wishes she and Ethan could just elope so they could also be together forever.
Then the letter takes an interesting turn, when Aubrey asks why Ethan and his uncle were acting so weird when they returned home from the wedding. And she questions why they both looked white as a sheet when they saw her deceased brothers photograph. Aubrey then asks what changed that made them react so strongly to his photo? Asking Ethan to please not keep secrets, she ends the letter asking Ethan to return an employees identification card for the Titanic to his uncle cause it fell out of his coat. She then asks if his uncle always carries around the ships employee's cards?
Over all, the letter started out very sweet and lovey-dovey, then took a mysterious turn that has me sooooo intrigued! I totally suggest these letters to girls who love getting mail and reading about the Titanic! I hope you all have an "Un-sinkable" Day! -The Young Llama Reader.
Was this post helpful?
Let us know if you liked the post. That's the only way we can improve.