Young Llama Thoughts
Adventurous

Christian Friendly

Easy Reading

Humerous

Youth Appropriate
Overall
4.4 Llamas










Review
This book is adorable! I mean it is sooo good and I totally suggest it to kids who want a good book about family, new friends and sticking up for what's right.
This book is about a boy names Arturo, who's family's restaurant may go under when a fancy-pancy land developer wants to use the land it's on for himself. Now Arturo has to work with his loco family to fight for what is right, while figuring out how to deal with the new girl who is turning his stomach into knots.
This book was just a sweet simple plot line, written with a fantastic story line! The kid wants to save his families restaurant, while trying to impress the girl he likes. It's super clean, very cute and totally awesome!!! There are some parts of the book that are written in Spanish, but there it is usually explained in English. (I really just love this book. It is sooooo perfect for young boys and girls 10 and up looking for a simple read filled with family, friends and doing what's right.) The only "con" is that there is some sad parts in the book. However the sad parts just make the book better!
Over all, this book is sooooo good! And I totally suggest it to everyone! Kids, adults, families! This book is just that good! Have a fabulous day!!!!! -The Young Llama Reader.
Pros
A really great book for boys!!!
Very clean, funny and sweet all at once!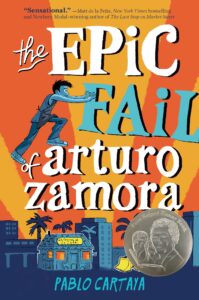 Save the restaurant. Save the town. Get the girl. Make Abuela proud. Can thirteen-year-old Arturo Zamora do it all or is he in for a BIG, EPIC FAIL?
For Arturo, summertime in Miami means playing basketball until dark, sipping mango smoothies, and keeping cool under banyan trees. And maybe a few shifts as junior lunchtime dishwasher at Abuela's restaurant. Maybe. But this summer also includes Carmen, a poetry enthusiast who moves into Arturo's apartment complex and turns his stomach into a deep fryer. He almost doesn't notice the smarmy land developer who rolls into town and threatens to change it. Arturo refuses to let his family and community go down without a fight, and as he schemes with Carmen, Arturo discovers the power of poetry and protest through untold family stories and the work of José Martí.
Funny and poignant, The Epic Fail of Arturo Zamora is the vibrant story of a family, a striking portrait of a town, and one boy's quest to save both.
Was this post helpful?
Let us know if you liked the post. That's the only way we can improve.