Young Llama Thoughts
Adventurous

Christian Friendly

Easy Reading

Humerous

Youth Appropriate
Overall
4.6 Llamas










Review
Ok, I LOVED this book! It was funny, interesting, and action filled! I have not read such a good book in a long time, and then this one appeared, (In a used book sale at my library.) and now I'm hooked!
This book is about a girl who is an orphan who gets to join a family in witness protection. She has never really had a home besides the one her pickpocket grandmother had given her; and she isn't certain this family would want a thief for a daughter. But it is the only way to protect them from the man trying to kill them, so she will have to do!
This book was awesome! The action, mini adventure and family sticking together was so much fun to read! However, no book is perfect, (except for the Bible) and this book did have some cursing… And there was violence, mention of guns, assassins, people getting shot and getting away with murder. So you have been warned!
Over all, this is a book I totally suggest to kids 10 and up! It is perfect for kids who love suspense and action! And I hope you all have a nice day. -The Young Llama Reader.
Pros
An amazing book about family!
Adventure, action and soooo much mystery!
Cons
Some curse words sadly…
Mild violence and mention of killing people.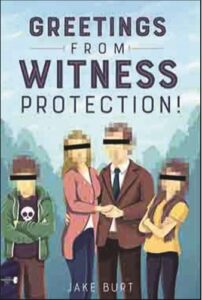 Nicki Demere is an orphan and a pickpocket. She also happens to be the U.S. Marshals' best bet to keep a family alive. . . .
The marshals are looking for the perfect girl to join a mother, father, and son on the run from the nation's most notorious criminals. After all, the bad guys are searching for a family with one kid, not two, and adding a streetwise girl who knows a little something about hiding things may be just what the marshals need.
Nicki swears she can keep the Trevor family safe, but to do so she'll have to dodge hitmen, cyberbullies, and the specter of standardized testing, all while maintaining her marshal-mandated B-minus average. As she barely balances the responsibilities of her new identity, Nicki learns that the biggest threats to her family's security might not lurk on the road from New York to North Carolina, but rather in her own past.
Was this post helpful?
Let us know if you liked the post. That's the only way we can improve.