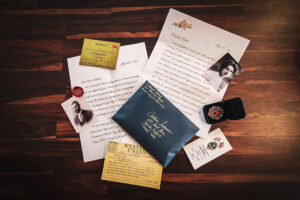 Letters 12 and 13 of the Lost in Time Letter subscription are soooo cool!!!! This subscription by C. D. Ross is such a cool idea and one I really enjoy reading. This is a subscription that I get around 2 times a month with letters, pictures and knick-knacks all about the Titanic. (And it is soooo cool!)
In this letter I got a letter from Ethan to Aubrey, a letter from Chad to Cordy and an answer key to the mystery from last letter. (Too cool!) The letter from Ethan talks about how worried he was over Aubrey being part of the "Black Friday". A day in 1911 where women marched to the House of Parliament to try to secure votes for women. Ethan writes about how upset is was that she didn't warn him, and how he would of come an supported and protected her if he knew.
Ethan then goes on to write about how he is doing in Liverpool where a explosion happened that hurt a lot of people. He talks about how he isn't certain he can become a doctor because his heart is breaking from all the people who were injured and killed in the explosion. Ethan also wrote about how he saw a strange encounter. His uncle came to visit him and Ethan was surprised when he saw a man stop his uncle and argue about something with him. When is uncle left he said the mans name was Alfie Walsh and the man told them not to sail in the Titanic because it might be "Hazardous to his health"…
Letter 13 is from Chad to Cordy and he writes to her about how excited he is to get married next week and he can't wait to take her with him on his ship! Chad talks about all the wedding details Cordy had arranged and how he thinks they will look perfect in the snow. Then his letter starts talking about some of the people on his ship that will be transferring to the Titanic soon. (Including the Olympics cat!!!)
Then the letter takes an interesting turn. Chad mentions last letter and how he found a burned up journal from a man named Alfie Walsh. When he was looking at the pages of the journal with all the strange symbols on them, one of the maids (who is transferring to the Titanic) asked him how he knew Ogham, which is an old Irish language. Once Chad had the answer key to the journal, (Which I also got in this letter) he was able to figure out what was on the journal page. Much to his shock it was a list of names, one of which is Chads uncle and the other is Chadwick Ismay himself. Chad writes to Cordy urging her to be careful since he has to idea why this journal has his name in it. In the last part of the letter he tells her that if anything were to happen to him, he has made certain that she would be taken care of and this precaution should keep her safe.
Over all, wow was this letter full of mysteries and interesting facts!!!! I am really hooked on this letters and I am soooooo excited to see what happens next! (Course I know part of what happens next. Since these are about the Titanic and all there is some clues) I totally suggest these letters to you! And I hope you have a nice day! -The Young Llama Reader.
Was this post helpful?
Let us know if you liked the post. That's the only way we can improve.