Young Llama Thoughts
Adventurous

Christian Friendly

Easy Reading

Humerous

Youth Appropriate
Overall
4.3 Llamas










Review
This book is too cute! When I saw this book I knew I was going to get it for YoungLlama, and I am sooo glad I did!!! This book would be perfect for young girls looking for an uplifting read about friendship, forgiveness, and standing up for yourself!
This book is about Magic Olive Pointdexter, a young girl who is desperate to get on the cheer-leading team and make her family proud! So she decides to go to Camp Pom-Pom! But she isn't very athletic, there are some mean girls who are waiting for her to fail and her best friend betrays her to join the popular kids. Now Magic has to figure out how to make it on her own, and show the world what kind-of magic she really has!!!!
This book is super cute! It is a nice simple plot line with lots of good morals for kids. It has lots of mentions of friends working together, teamwork, and loving yourself for who you are! This really is a cute book for girls 10 and up.
Now there is some bullying in this book. The cheerleaders in the book don't like Magic and don't want her on the team. They embarrass her, make fun of her and insult her throughout the book. And Magic likes to crew on comfort food so she isn't as stick-thin as the other girls. Which makes the cheerleaders pick on her a bit more. I don't think this would be a problem for any girls; bullying is sadly in our world and I think kids should know about it.
Over all, this book would be great for young girls!!! I very much suggest it to girls 10 and up, and I hope you have a Hat-tastic day!!! -The Young Llama Reader.
Pros
A really uplifting read for girls!!!
Super clean and very sweet!!!!
Cons
Some bullying and body negativity…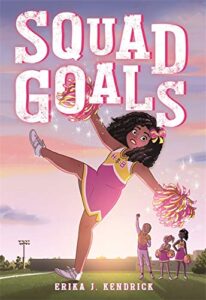 Magic Olive Poindexter has big shoes to fill. Her mother was a professional cheerleader, her father is a retired NBA legend, her big sister is the new face of the oh-so-glamorous Laker Girls, and her grandmother was the first black cheerleader ever on Valentine Middle School's HoneyBee cheer squad. Magic wants nothing more than to follow in their footsteps. But first, she has to survive Planet Pom Poms, the summer cheer camp where she'll audition for a spot on the HoneyBee squad. But with zero athletic ability and a group of mean girls who have her number, Tragic Magic is a long way from becoming the toe-touching cheerleader heroine she dreams of being.
Things start to look up when her best friend Cappie joins her at camp—until Cappie gets bitten by the popularity bug, that is. To make matters worse, Magic's crushing hard on football star Dallas Chase. Luckily, Magic's not alone: with the help of a new crew of fabulous fellow misfits and her Grammy Mae's vintage pom poms by her side, Tragic Magic might just survive—and even thrive—at cheer camp.
Was this post helpful?
Let us know if you liked the post. That's the only way we can improve.