Young Llama Thoughts
Adventurous

Christian Friendly

Easy Reading

Humerous

Youth Appropriate
Overall
3.8 Llamas










Review
This book was sent to me by Baker Book House and I was soooooo excited to receive it! I read the 1st book in this series last year and really loved it, so when I saw I was getting the 2nd I got a really excited!!!!!!
This book is the 2nd in the Waters of Time series and is about Marian's sister Ellen. Its been a year since her sister and father died from drinking the supposedly healing water and Ellen is now in the final stages of her genetic disease. Harrison her longtime friend is not ready to give up on the water and decides to try to find some more. When he discovers 2 flasks, their adventure really begins. Time travel, torture, love, and family all reconnect through a impossible adventure through time.
So I loved the 1st book and I ADORE the 2nd!!!! There is soooo much adventure, action, romance and suspense that it just keeps you reading till the very end! However, this is NOT a kids book… Lots of kissing, talk of wedding night, and marriage. And some violence. Threats, swords, old fashion weapons. And a baby is born in a kind-of gross way… So you have been warned…
Over all, what an amazing book series! I can not wait to re-read these books again and I totally suggest them to girls 16 and up! Have a fantastic New Year1 -The Young Llama Reader.
(And in case you are wondering, I did not post anything this week cause I caught a horrible cold of some kind and could barely leave my couch… I'm better now. Thanks for worrying about me!)
Pros
A very good book for girls 16 and up!
Clean, Christian-friendly and very interesting to read!
Historical romance!
Cons
Adult topics.
Lots of violence…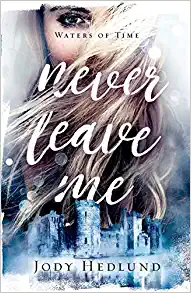 In the last stages of a genetic disease, Ellen Creighton has decided to live out her remaining days at the estate of her longtime friend Harrison Burlington. Harrison cares deeply for Ellen, but as a wheelchair-bound paraplegic, he's never allowed himself to get serious in a relationship. However, he's desperately trying to save her by finding the holy water that is believed to heal any disease.
When he locates two flasks, Ellen refuses to drink one of them because she believes the holy water killed her sister and father. In an effort to convince her to take it, Harrison ingests the contents first, and when Ellen witnesses the effects, she can no longer deny the power of the substance in the bottles. Dangerous criminals are also seeking the holy water, and Ellen soon learns they will go to any lengths to get the powerful drug–including sending her back into the past to find it for them.
Bestselling and award-winning author Jody Hedlund plunges you into the swiftly flowing river of history in a race against the clock in this breathtaking, emotional second Waters of Time story.
Was this post helpful?
Let us know if you liked the post. That's the only way we can improve.