Young Llama Thoughts
Adventurous

Christian Friendly

Easy Reading

Humerous

Youth Appropriate
Overall
3.7 Llamas










Review
So this book is amazing!!!! I don't know why but I love a good amnesia story and this book did not disappoint!!!! (Plus the author signed it to me!!!!! So cool!!!!!)
This book is about Remy, a young women living alone on a remote island happy to live her life with her art and no one else. Until she spots a man drowning in the ocean. Remy saves him from an watery death, an immediately regrets it when he acts like a spoiled duke. But she can't return him to his home, because he doesn't remember it… In fact he remembers nothing at all. To find his lost past they have to work together to overcome their faults and find peace.
This book was sooooooooo good! It was so well written, there wasn't one boring part and the mystery is full of twists and turns! There is adventure, romance, humor and it's Christian-friendly!!!! (Can I just say this book is a must read for ladies 18 and up?!? I mean I am obsessed with it, and now I need more by this author!)
Now, this book is fantastic, but it is NOT a kids book. (Big no-no for 17 and under) The girl in the book had a traumatic thing happen to her years ago and has a hard time with it. (Spoilers! She was assaulted, it isn't described in detail, but it's mentioned. It is also mentioned that a husband and wife had 'ex. Never described but mentioned) Sooo… 18 an up all the way. There is also some violence in the book. Nothing overly described but yet again mentioned.
Over all, this is an amazing book for young women! I totally suggest to ladies 18 and up. And I am sooo getting more books by this author! (Thank you Ms. Wade for writing such a great book!!!!) Adios my Llamaings! -The Young Llama Reader.
Pros
A really good mystery for adults!
Interesting, funny and very well written!
Christian-friendly!
Cons
NOT a kids book…
Adult topics and some violence…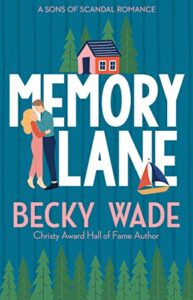 After surviving a trauma several years back, Remy Reed relocated to a cottage on one of Maine's most remote islands. She's arranged her life just the way she wants it, spending her time working on her wood sculptures and soaking in the beauty of nature. It's quiet and solitary—until the day she spots something bobbing in the ocean.
Her binoculars reveal the "something" to be a man, and he's struggling to keep his head above water. She races out to save him and brings him into her home. He's injured, which doesn't detract from his handsomeness nor make him any easier to bear. He acts like a duke who's misplaced his dukedom . . . expensive tastes, lazy charm, bossy ideas.
Remy would love nothing more than to return him to his people, but he has no recollection of his life prior to the moment she rescued him. Though she's not interested in relationships other than the safe ones she's already established, she begins to realize that he's coming to depend on her.
Who is he? What happened that landed him in the Atlantic Ocean? And why is she drawn to him more and more as time goes by?
There's no way to discover those answers except to walk beside him down memory lane.
Was this post helpful?
Let us know if you liked the post. That's the only way we can improve.