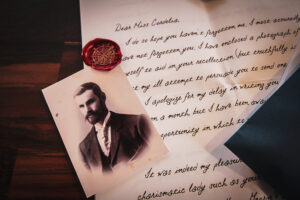 This is the 9th letter in the Lost in Time Letters by C. D. Ross and it was sooooo sweet! I really do love these letters. It is like reading a fictional characters mail and I am obsessed! (Actually, you are reading a fictional characters mail… That is basically these letters summed up!)
In this letter, I got 2 different envelopes, a poster for the Titanic and a fun facts sheet. The 1st letter is to Chad from his Uncle J. Bruce Ismay. It is a one paged letter telling Chad about how the maiden voyage date for the Titanic is official and includes a poster for it. His uncle talks about how he has reserved two 1st class suites for Chad and his brother Ethan. His uncle says each of their brides will be delighted with the surprise! (Though this seems like a terrible honeymoon to me with the iceberg and all…) His uncle also mentions how he ran into Chad's father and how he was so proud of what his boys were doing. And he ends the letter telling Chad to be careful with his father, and how worried he is that Chad will be hurt again. That even though he is only Chad's uncle he considers the brothers to be his own sons! (Which is just toooooo cute!)
The 2nd letter was from Ethan to Aubrey, and talks about how much he misses her and how he is ready to be done with his schooling so they can start their lives together! (Super sweet!) Ethan mentions how he got to ride one of the very first escalators and was quite trilled by it. But what really interested me, was when Ethan mentioned a novel he started reading by Morgan Robertson called Futility on the Wreak of the Titan. Which is a book that was published 14 years before the Titanic and predicted its sinking!!! This book predicted the wreak of the Titanic to the size of the ship, what month it was in, where the iceberg hit and more! It is seriously weird. Ethan mentions how it freaked him out a bit, but he is certain nothing like that will happen on their ship.
Over all, this letter was really cute, and I absolutely loved the fun facts! If I haven't said it before, you all seriously need to read these letters!!! They are soooooo perfect for a historical fiction lover who loves mail and trinkets! Adios! -The Young Llama Reader.
Was this post helpful?
Let us know if you liked the post. That's the only way we can improve.