Young Llama Thoughts
Adventurous

Christian Friendly

Easy Reading

Humerous

Youth Appropriate
Overall
4.2 Llamas










Review
This book has been sitting on my shelf for like a year, and I picked it up the other day on a whim and found a wonderful read I wasn't expecting! (I really should go through the 47 unread books I have… I might find some new favorites!)
This book is a Peter Pan retelling with magical animals, 5 orphan boys, 1 girl with a secret, multiple pirates hunting a treasure, savages, mermaids, crocodiles and a treasure so great it fell from the stars… Peter has no idea what he has gotten himself and his 4 friends into, but he knows that that treasure must not fall into the wrong hands…
This book was very good! There was adventure, mystery, pirate fights, raging storms, magical stardust and more! It was one of the best fairytale retellings I have read in a long while. (Is Peter Pan actually a fairytale? I don't know. I think it is, if not this book is still just as good 😉 )
There is some magic in the book. (People usually need some help from magic to fly and all) All very clean. The stardust "fairydust" (Whatever you want to call it) transforms animals into fairies, mermaids, and monsters. (The transforming part is a bit gross. The mermaids had creepy fangs for awhile, and they don't wear shirts. Nothing described) And the magic can make people feel incredibly happy and they fly.There is also violence in the book. People get cut, shot, bit by fanged mermaids, fed to crocodiles and someone's hand gets cut off. (Can you guess who?) Nothing described, just mentioned with hints of blood on them or in the water.
Also the Captain Hook guy is insane. In the book he eats raw meat and throws people over all the time. Has no problem killing people, capturing women and children, and he also has a special made sail that looks like a black bra… Which is really weird, and the picture of the ship is puzzling but not inappropriate. Just insane…
Over all, I would suggest this book to kids 10 and up who love adventure, magic and fairytales! This was a very good book and I can't wait to read the rest of the series!!! Have a book-filled day! -The Young Llama Reader.
Pros
A wonderful retelling of Peter Pan!
Very clean and kid-friendly!
Great for boys 10 an up!
Cons
Magical stars…
Some violence…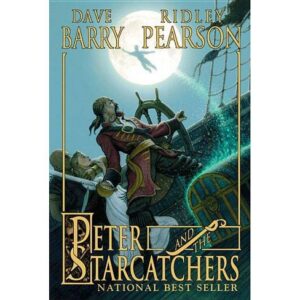 In an evocative and fast-paced adventure on the high seas and on a faraway island, an orphan boy named Peter and his mysterious new friend, Molly, overcome bands of pirates and thieves in their quest to keep a fantastical secret safe and save the world from evil.
This riveting adventure takes listeners on a journey from a harsh orphanage in old England to a treacherous sea in a decrepit old tub. Aboard the Never Land is a trunk that holds a magical substance with the power to change the fate of the world – just a sprinkle and wounds heal; just a dusting and people can fly. Towering seas and a violent storm are the backdrop for battles at sea. Bone-crushing waves eventually land our characters on Mollusk Island – where the action really heats up.
Peter and the Starcatchers is brimming with richly developed characters, from the scary but somehow familiar Black Stache and the ferocious Mister Grin to the sweet but sophisticated Molly and the fearless Peter.
Was this post helpful?
Let us know if you liked the post. That's the only way we can improve.