Young Llama Thoughts
Adventurous

Christian Friendly

Easy Reading

Humerous

Youth Appropriate
Overall
4.4 Llamas










Review
So this book is by the author who wrote Inkheart, (and we all know how much I adored that book!) so I decided to get this dragon series and try it out to see if it was good. And it was GREAT!
This book is about a dragon who has decided to go search for the lost Rim of Heaven. The dragons last sanctuary on Earth from humans. With his brownie friend on his side, they set out together. Only to find out that much has changed thanks to the humans. And they will have to rely on a human boy to help them escape the humans and the evil monster that is hunting them…
I completely adore this book. I am always down for a good magical adventure, but when there are dragons I lose my mind! (Probably from reading the How to Train Your Dragon series 20 times as a kid…) The book is a very clean classic. Lots of adventure, friendship, action and fighting without much description of blood and stuff.
There is magic in this book. But clean magic. Some mention of alchemy and using it to create a giant golden dragon monster thing. No voo-doo or creepy stuff. (Though the team runs into some monks at one point and they mention incarnation and stuff. Never happens only mentioned in suspense) However, there are monsters in the book. Dragons, "demons" (they don't come up only mentioned), weird creatures that turn you into stone. (Think medusa but a stinky old dragon that is ugly as all get out) Nothing creepy, only mythical animals that show up here and there.
Over all, this is a great book and I really enjoyed it! I totally suggest this classic to kids 8 and up who love dragons and adventure! Have an amazing rest of your day! -The Young Llama Reader.
Pros
An amazing classic!
Very clean and interesting!!!!
Great for kids 8 and up!
Cons
Some weird magical creatures…
Mention of violence…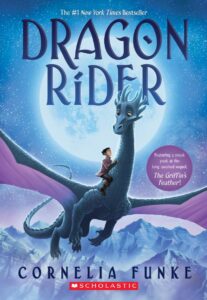 With a lonely boy named Ben on board, the brave young dragon Firedrake sets out on a magical journey to find the mythical place where silver dragons can live in peace forever. Flying over moonlit lands and sparkling seas, they encounter fantastic creatures, summon up surprising courage — and cross the path of a ruthless villain with an ancient grudge who's determined to end their quest. Only a secret destiny can save the dragons in this enchanting adventure about the true meaning of home.
Dragon Rider is a 1997 German children's novel by Cornelia Funke. Originally translated by Oliver Latsch, Dragon Rider was published in English in 2004 by The Chicken House in the United Kingdom and Scholastic Inc. in the US, using a translation by Anthea Bell.
Was this post helpful?
Let us know if you liked the post. That's the only way we can improve.