Young Llama Thoughts
Adventurous

Christian Friendly

Easy Reading

Humerous

Youth Appropriate
Overall
3.4 Llamas










Review
I REALLY liked this book! It isn't really a kid/youth book….I'd say more of an young adult/adult book. The story was great and had a few fun twists. The characters were realistic and had some fun quirks. There were a few adult topics mentioned, so I'd say this is a 16 and up book.
I do recommend it, though, as well as any other books written by Melody Carlson.
The main character, Brynna, is a middle-aged teacher that still hasn't found her soul-mate, and she manages to finagle a way to meet up with her teenage love interest from 30 years prior. All sorts of emotions surface, and the realistic side of true love shows up as Brynna and Leroy try to navigate the waters of existing issues.
I love the resolution of the story because it isn't what you are expecting! (Yes, it IS a happy ending! No, it wasn't necessarily predictable.)
I highly recommend. 🙂
The Turtle Reader
Pros
Fun storyline
Realistic characters
Christian-based
Cons
Mentions a few adult topics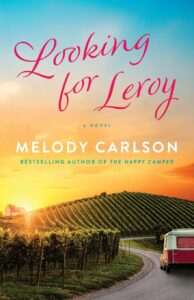 It's official: Brynna Phillips is done with men. They only break your heart. But just when she makes this declaration, her friend Jan convinces Brynna to join her on a camping vacation in Sonoma Wine Country. As they wind their way toward their destination, spanking-new mini camper in tow, Brynna recalls her teenage camp romance with a boy named Leroy. How can it have been nearly 30 years ago? All she remembers is that Leroy was a genuinely good guy and that his family owned a vineyard–in Sonoma. She doesn't even remember his last name. Jan insists they look for him, and the search begins.
Beyond the slim chance they'd ever be able to find him are questions that have haunted Brynna for decades, including What is the point of digging up the past? and Can Leroy ever forgive me for losing touch?
Bestselling author Melody Carlson invites you on a trip to rediscover the carefree days of youth and, just maybe, to get a second chance at love.
Was this post helpful?
Let us know if you liked the post. That's the only way we can improve.