Young Llama Thoughts
Adventurous

Christian Friendly

Easy Reading

Humerous

Youth Appropriate
Overall
4.3 Llamas










Review
Ok let me just say, I love this book. It was clean, interesting, had some funny parts, realistic but still fun fiction. There was bad guys, danger, action, suspense, missing people, hidden clues and just plain awesomeness!!! What is not to love?!?
This book is about Ali Cross, son to the Famous homicide detective Alex Cross. (Who has his own book series that I haven't read) So when Ali's friend goes missing, he knows that after the 3rd day there isn't much hope. And when no one has any leads, Ali decides he is going to find him… With some help from his detective dad of course!
This was a fantastic book! It is very clean. There is obviously some violence. Nothing too bloody or anything, but it is mention a bit. There is also missing people and such. Some mention of violent cops. And the kid does like to watch horror movies, but it is only mentioned.
However, there is an LGBT mention in the book. When Ali's friend goes missing, the police ask him and if his friend has a girlfriend or boyfriend… I don't know why people have to sneak this into kids books… And as I said many times before, I do not dislike LGBT people. But as Christian, I do not agree with it. (The Bible says it, look it up!) I do not think this should be in kid books and I wish authors wouldn't push it on people. (The easy way to fix it is with a gel pen, cross it out and move on with life.)
Over all, this is a great book for kids 10 and up! It is very suspenseful and full of mystery, but is still lighthearted and fun. (Even with the one word…) Hope you all have a great day! -The Young Llama Reader.
Pros
A very fun, suspenseful book!
Great for boys!!!!
Cons
Some violence…
Mention of violent cops…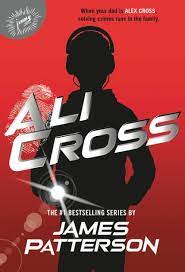 Ali Cross has always looked up to his father, former detective and FBI agent Alex Cross. While solving some of the nation's most challenging crimes, his father always kept his head and did the right thing. Can Ali have the same strength and resolve?
When Ali's best friend Gabe is reported missing, Ali is desperate to find him. At the same time, a string of burglaries targets his neighborhood — and even his own house. With his father on trial for a crime he didn't commit, it's up to Ali to search for clues and find his friend. But being a kid sleuth isn't easy — especially when your father warns you not to get involved! — and Ali soon learns that clues aren't always what they seem. Will his detective work lead to a break in Gabe's case or cause even more trouble for the Cross family?
Was this post helpful?
Let us know if you liked the post. That's the only way we can improve.