Young Llama Thoughts
Adventurous

Christian Friendly

Easy Reading

Humerous

Youth Appropriate
Overall
4.3 Llamas










Review
Ok, so I love this series!!!! BUT. The books can be a little bit dark. There are monsters, death, creepy..things and turning people into…stuff. (Plus kidnapping children, working in a slave factory and mental torture kind-of described.) So… Yeah! I would say it's mostly kid-friendly!
The book is about Janner, Tink and Leeli finding out that they are the Jewels of Anniera. And now they are running for their lives! But while their escaping, evil fangs are after them, the town their in seems to be against them, and it seems like Gnag the Nameless has more dark secrets then they thought!
The books are clean, but violent. (When I say clean, it's more like appropriate. Unfortunately, that doesn't include violence…) There is weird "not" magic stuff in the book; like people being turned into fangs. Kids being kidnapped and enslaved to work in a factory. People being killed, Fangs being killed (and turning to dust and ones when they are killed…), and just plain not-really described, violence. (Ya know, mention of blood but not really descriptive.) However, the weird monsters and magic in the book might freak some kids out. (So I suggest letting your parents see it first; or flipping through some chapters to see if you can handle it.)
Over all, I like the series and I do believe it is kid-friendly. But it can get a little bit dark at times, and… AWESOME!!!!!! I hope you all have a great day! -The Young Llama Reader.
Pros
Another book I seriously enjoyed!!!!
A good book for kids and teens!
Christian-friendly!
Cons
Kind-of dark, lots of violence and monsters….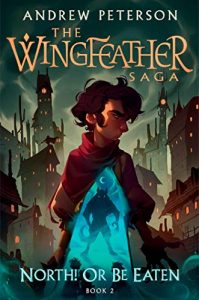 Janner, Tink, and Leeli Igiby thought they were normal children with normal lives and a normal past. But now they know they're really the Lost Jewels of Anniera, heirs to a legendary kingdom across the sea, and suddenly everyone wants to kill them.
In order to survive, the Igibys must flee to the safety of the Ice Prairies, where the lizardlike Fangs of Dang cannot follow. First, however, they have to escape the monsters of Glipwood Forest, the thieving Stranders of the East Ben, and the dreaded Fork Factory.
But even more dangerous are the jealousies and bitterness that threaten to tear them apart. Janner and his siblings must learn the hard way that the love of a family is more important than anything else.
Full of characters rich in heart, smarts, and courage, North! Or Be Eaten is a tale children of all ages will cherish, families can read aloud, and readers' groups are sure to enjoy discussing for its many layers of meaning.
Was this post helpful?
Let us know if you liked the post. That's the only way we can improve.