Young Llama Thoughts
Adventurous

Christian Friendly

Easy Reading

Humerous

Youth Appropriate
Overall
3.9 Llamas










Review
I LOVE these books!!!! And I just realized there are a set like last week!!!!!!! A Daring Sacrifice and For Love and Honor are my FAVORITES!!!!!!! I am a sucker for a good romance…. Especially if it includes some awesome fight scenes!!!!
These 5 books are part of a series written by Jody Hedlund. Each book follows a different girl and knight as they battle dangers and find true love! There is action, romance, suspense, danger, and little bit of blood and a whole lot of awesomeness!!!!!!!!! These are such great books for young ladies 16 and up.
I have read books 1-4 and I had no idea book 5 existed till 5 mins ago. (Need to read it now!) I do not like book 1 due to a lot of mention of torture…. "Bleh!" Books 2-4 have violence, sword fights and people die. But they don't describe some torture methods…. Book 1 does…. So, you've been warned!
The books are all classic romances! And are all very clean. There is mention of marriage. And certain things like that, but nothing inappropriate. There is mention of historical customs. That might be weird and make no sense. And I really can't think of anything else except, READ IT!!!!!!
Over all, these books are very clean and VERY good! They are not kids books, 16 and up! But I do suggest them to young ladies! Have a fantastic day!!!!! -The Young Llama Reader.
Pros
16 and up.
A PERFECT series for young ladies!
Very clean, and Christian-friendly!!!
Cons
NOT a kids series.
Lots of different mentions of violence…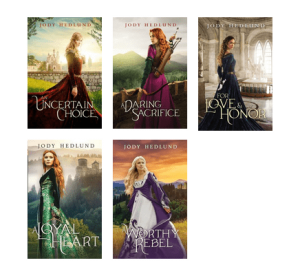 In this 5 book series of romantic, fairy-tale-like YA novels from bestselling author Jody Hedlund, 5 separate noblewomen—Rosemarie, Juliana, Sabine, Olivia and Izzy—face difficult choices, dangers, and painful truths as they work to find a way to protect their futures. And as each meets one of the noblest knights in the land, they must also protect their hearts. This series contains: An Uncertain Choice, A Daring Sacrifice, For Love and Honor, A Loyal Heart and A Worthy Rebel.

Was this post helpful?
Let us know if you liked the post. That's the only way we can improve.