Young Llama Thoughts
Adventurous

Christian Friendly

Easy Reading

Humerous

Youth Appropriate
Overall
3.6 Llamas










Review
Soooo… I might be obsessed with this book. I received this book from Baker Book House excepting a semi-ok adventure and got a hands down amazing series! (And I haven't even read book 1?!?!!)
This book is about a rescue mission gone wrong but in the most perfect way. When Navy Seal Ranger is called to Nigeria to rescue his brother he doesn't expect to rescue Noemi the one women who rattled his heart so long ago. And when the only way to safely escape leaves them married in her mothers country, will he be able to get them home safely? And will she be able to rescue him from the danger following her before it's too late?
Ok, so this book was amazing!!!!!! Not only was I enthralled with the story but I loved the characters! (Especially since we actually have a black lead! Cause if Noemi turned out white but her family was from Nigeria I was going to pitch a fit.) This book was beautiful. The way the story kept getting deeper and the writing captured your attention. The mystery and adventure just kept me glued to my seat for hours!!!!!
However, there is a lot of violence in this book. Mention of people getting killed, enslaved, tortured, shot, stabbed, mention of bombs, grenades and guns as well. Plus some adult topics, like kissing and going to bed, (Nothing described! Just mentioned like a married excepted thing.) But there is also mention of (Code words!) Gang 'ape, and terrorists "using" people… Only mentioned like 1 time but I don't suggest this book to teens. 18 and up!
Over all, WHAT AN AMAZING BOOK! I loved it and can not wait to get more by this author!!!!!!!! (Need to order from my library immediately…) I totally suggest this book to young ladies 18 and up who love a good adventure with the perfect twist of romance. Adios! -The Young Llama Reader.
Pros
An absolutely amazing adventure!!!!
Christian-friendly!
Super interesting and adventurous!
Cons
Soooo not a kids book…
Many adult topics…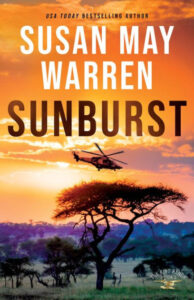 When former Navy SEAL and lifelong bachelor Ranger Kingston is called upon to take part in a rescue mission to save his brother Colt, who has been kidnapped by terrorists in Nigeria, he is shocked to find among the hostages a woman he knows and could never forget.
Noemi Sutton was attempting to return a young girl to her family in Boko Haram territory when she and the girl found themselves taken hostage, along with several others.
And while Ranger Kingston may be able to get the hostages away from their captors, he'll need Noemi's help if he ever hopes to get out of Nigeria alive.
Her solution? Pose as husband and wife. But when her uncle discovers the union, he insists on a traditional Nigerian wedding—binding Noemi to a man destined to break her heart. Worse, she's discovered the real reason she was kidnapped, and anyone around her is bound to be caught in the cross fire. Including her so-called new husband.
She'll need to figure out a way to leave the man she loves if she wants to save his life.
Was this post helpful?
Let us know if you liked the post. That's the only way we can improve.