Young Llama Thoughts
Adventurous

Christian Friendly

Easy Reading

Humerous

Youth Appropriate
Overall
3.8 Llamas










Review
Wow! Ok this book was sent to me by Baker Book House for my review, and my review is READ IT! This series is amazing! And I can not wait for book 3!
This book is about Kekoa, SNAP Agency's cryptologist who loves food and friends and Elinor, a aerospace engineer who is slowly discovering a secret her grandfather hid so long ago. When Kekoa is told to watch Elinor and hopefully help her survive as her discoveries lead to something much bigger, he wasn't excepting to fall in love with her. But will they make it out alive so he can tell her?
This book is sooooooo good! The action, suspense and romance keep you turning the page for more!!!!! And I LOVE the characters. The author wrote them so fun and interesting that I want to see more of them!
However, since this book is kind-of FBI/CIA there is violence in it. People get shot, killed, "disappear". There is mention of nuclear bombs, terrorists and being kidnapped taken to a dark place and being (Code Words) 'aped… So… This is NOT a kids book. I put this is the 16 and up category.
Over all, this is one of my new favorite series and I totally suggest it to those who love a good FBI case! Thank you Baker Book House for sending me this book! -The Young Llama Reader.
Pros
An AMAZING story!!!
Action, suspense, romance!!!!
Perfect for girls 16 and up!
Cons
Violence and death…
NOT a kids book…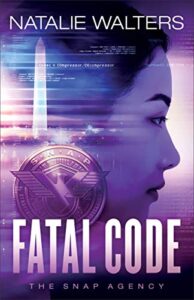 In 1964, a group of scientists called the Los Alamos Five came close to finishing a nuclear energy project for the United States government when they were abruptly disbanded. Now the granddaughter of one of those five scientists, aerospace engineer Elinor Mitchell, discovers that she has highly sensitive information on the project in her possession–and a target on her back.
SNAP agent and former Navy cryptologist Kekoa Young is tasked with monitoring Elinor. This is both convenient since she's his neighbor in Washington, DC, and decidedly inconvenient because . . . well, he kind of likes her.
As Elinor follows the clues her grandfather left behind to a top-secret nuclear project, Kekoa has no choice but to step in. When Elinor learns he has been spying on her, she's crushed. But with danger closing in on all sides, she'll have to trust him to ensure her discoveries stay out of enemy hands.
Natalie Walters sucks you into the global race for space domination in this perfectly paced second installment of her SNAP Agency romantic suspense series.
Was this post helpful?
Let us know if you liked the post. That's the only way we can improve.