Young Llama Thoughts
Adventurous

Christian Friendly

Easy Reading

Humerous

Youth Appropriate
Overall
4.7 Llamas










Review
So, I loved the 4 book series of the Wingfeather Saga, the 7 tale book that came after it and this amazing book of creatures that completes it!!!!!! I was hesitant at first cause I thought it was just a journal about the weird creatures of the land; but then I got it for Christmas and saw the amazing art!!!!! (I'm a sucker for art…) And now I want you all to get it too!
This Creaturepedia is technically written by a character from the series. And in this book is his journal with all the fascinating/ strange/vicious creatures of the land. From Mustached Thwaps to Toothy Cows they are all in there with beautifully drawn pictures that really bring the book together. This is a book I most definitely suggest to any Wingfeather fan!
I love this book. Like Love LOVE! It is just soooooo cool! From the fun little facts on each creature, to the funny stories, to the art! I am head over heels in love with this book!!!!! Though it is not a book-book, it is still amazing. Written in a journal like sketchbook; this book is filled with random stories and fun words. And did I mention the art… Cause it is AMAZING!
Over all, obviously I'm in love and I totally suggest this book! If you love fun art books filled with ridiculous creatures that you shouldn't want to cuddle but you do? Than this is your kind-of book. Happy Readings! -The Young Llama Reader.
Pros
An amazing journal/sketchbook of the Wingfeather Saga animals!
Hilarious and perfect for fans of the series!
Filled with adorable/weird/funny creatures to read and laugh about!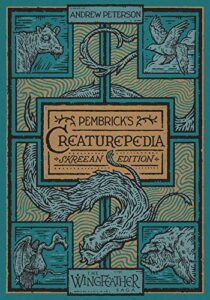 This detailed companion is essential to all who travel to the lands of Skree, and a must-have for all Wingfeather Saga fans. Now with all-new illustrations!
Sketcher, adventurer, disguiser, and sneaker Ollister B. Pembrick roamed all of Skree with a sketchbook and pen, searching behind every tree stump and under every stone, in every river and on every hill, to discover and document the endless living wonders of the Maker's world. He risked life and limb–quite literally–to compile sketches and details of the creatures of Skree, usually from the cover of a hollow log, a hedge, or a pile of leaves.
Refer to this carefully documented Creaturepedia before traversing through the Stony Mountains or harvesting fartichokes within a fortnight after a sandstorm. The drawings and field notes about squeeblins, toothy cows, oiples, and more will surely save any explorer's life and will definitely keep them–and their appendages–from being gobbled. Tread carefully, young adventurer. The creatures within are not to be trifled with.
Was this post helpful?
Let us know if you liked the post. That's the only way we can improve.