Young Llama Thoughts
Adventurous

Christian Friendly

Easy Reading

Humerous

Youth Appropriate
Overall
4.3 Llamas










Review
This book was sent to me by Baker Book House for my honest review. And honestly? I will be looking for more books by this author, cause I loved this book!!!! This is the perfect book for any historical book lover!
This book is set in 1755 and is about a young chocolatier who believes her chance at love is long gone and a sea captain who could never quite forget her. But when the uncompleted lighthouse claims his return, Esmée Shaw might just have her chance with Captain Henri Lennox again. That is if his new post to lead a secret naval expedition doesn't take him from her again!
Ok, I really liked this book! It was clean, interesting and very romantic. Not to mention who doesn't love chocolate?! There is some light violence in the book; mostly just mentions of people threatening to kill or have their way with people. And mention of the pox taking peoples lives and an almshouse for people who according to some rich nobodies "don't deserve to live".
Over all, this is a beautifully written book perfect for the young lady who loves historical fiction! And I will be looking for this author again!!! Happy New Year! -The Young Llama Reader.
Pros
A beautiful romance to satisfy any historical book lover!
Perfect for young ladies!
Adventure, pirates and chocolate!
Cons
Some violence mentioned.
Diseases mentioned.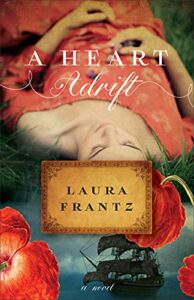 A Virginia chocolatier and a privateering sea captain collide once more after a failed love affair a decade before. Will a war and a cache of regrets keep them apart? Or will a new shared vision reunite them?*****It is 1755, and the threat of war with France looms over colonial York, Virginia. Chocolatier Esmée Shaw is fighting her own battle of the heart. Having reached her twenty-eighth birthday, she is reconciled to life alone after a decade-old failed love affair from which she's never quite recovered. But she longs to find something worthwhile to do with her life.
Captain Henri Lennox has returned to port after a lengthy absence, intent on completing the lighthouse in the dangerous Chesapeake Bay, a dream he once shared with Esmée. But when the colonial government asks him to lead a secret naval expedition against the French, his future is plunged into uncertainty.
Will a war and a cache of regrets keep them apart, or can their shared vision and dedication to the colonial cause heal the wounds of the past? Bestselling and award-winning author Laura Frantz whisks you away to a time fraught with peril–on the sea and in the heart–in this redemptive, romantic story.
Was this post helpful?
Let us know if you liked the post. That's the only way we can improve.