Young Llama Thoughts
Adventurous

Christian Friendly

Easy Reading

Humerous

Youth Appropriate
Overall
4 Llamas










Review
This book was sent to me by Baker Book House for my honest review.. And honestly? I LOVED IT! The action, mystery, suspense and action?!?!?! Amazing!!!!!!! This book is one of my new fav and I totally suggest it to any young lady 16 and up! (But only if you like CIA action and such, cause it can get a bit stressful if your not ready….)
This book is about a young women who is in a very rough CIA case. When one of her agents goes missing, she has to team up with an old flame to save her job! But when things start getting dangerous, and she starts to realize maybe being alone isn't what she wants anymore. She will have to survive the mission to save her heart!
I LOVED this book! It was so good I could NOT put it down! (I seriously finished it the day after I got it. ) The book is very good, but there is violence. Bombs, guns, cars trying to run people down. Mention of trafficking, forced labor, missing people and people dying. The book is clean, and very interesting but it is NOT a kids book. 16 and up, and to be entirely honest I wouldn't give this to a 16 year old. So maybe 18 and up. (There are just to many sensitive topics in the book for a kid or teen)
Over all, this is one book I most definitely suggest to any women who loves a good CIA mystery! I hope you all have a wonderful day! -The Young Llama Reader.
Pros
AWESOMENESS!!!
Adventure, action, romance and suspense!
Perfect for girls 16 and up.
Cons
NOT a kids book!
Mention of many adult things!
CIA violence and such!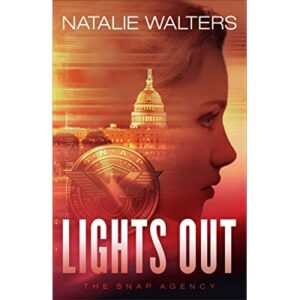 CIA analyst Brynn Taylor developed a new program to combat terrorism, and she invited members of foreign intelligence agencies to America to foster cooperation between countries. Now one of them, Egyptian spy Remon Riad, is missing.
Jack Hudson has been working for the Strategic Neutralization and Protection Agency (SNAP) for almost nine years and takes the lead in hunting down the missing spy. But he isn't at all pleased to find out Brynn is involved. It's hard to trust a woman who's already betrayed you.
Every lead they follow draws them dangerously deeper into an international plot. Kidnapping, murder, explosions, poisoning–the terrorists will do anything to accomplish their goal of causing a digital blackout that will blind a strategic US military communications center and throw the world into chaos.
Can Brynn surrender control to a man who doesn't trust her? And can Jack ever get over what she did to him? The fate of the world–and their hearts–hangs in the balance.
Was this post helpful?
Let us know if you liked the post. That's the only way we can improve.