Young Llama Thoughts
Adventurous

Christian Friendly

Easy Reading

Humerous

Youth Appropriate
Overall
3.9 Llamas










Review
So my mom is awesome! She found me this book at Salvation Army for $1 and I was sooooo excited! And then I read it… and now I am over the moon!!!!!!!! This book is amazing and there are 2 more books!?!?!?! (I must have them…)
This book is about a young girl named Tuesday, her dog named Baxterr (with 2 r's) and her super famous writer of a mom. When her mom goes missing before her last book is done, Tuesday must follow her to the magical world where stories come from to find her. But when they get their, her mother's story book world of adventure and pirates doesn't seem ready to end…
This book was sooo good! The adventure and action kept me reading till the very end! I love how the writers go to this world of stories to live out what they are writing, it's genius! However, there is violence.
People get injured, mention of falling off cliffs and breaking every bone in the body. Wings get torn, ribs get broken. And one guy has a leg broken backwards, a neck broken at an angle, broken arms and gets a needle through his nose… Nothing is grossly described but there is mention of blood…
Over all, this is a very good book with just a bit of blood. I think it is super clean and readable for kids 10 and up! As long as you like a good story about pirates, writers and cute little dogs that is. 😉 Happy Readings! -The Young Llama Reader.
Pros
A great magical story about the power of writing!
Very interesting!!!
Cons
Lots of blood and violence mentioned…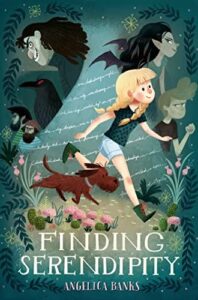 When Tuesday McGillycuddy and her beloved dog, Baxterr, discover that Tuesday's mother―the famous author Serendipity Smith―has gone missing, they set out on a magical adventure.
In their quest to find Serendipity, they discover the mysterious and unpredictable place that stories come from.
Here, Tuesday befriends the fearless Vivienne Small, learns to sail an enchanted boat, tangles with an evil pirate, and discovers the truth about her remarkable dog.
Along the way, she learns what it means to be a writer and how difficult it can sometimes be to get all the way to The End.
Was this post helpful?
Let us know if you liked the post. That's the only way we can improve.