Young Llama Thoughts
Adventurous

Christian Friendly

Easy Reading

Humerous

Youth Appropriate
Overall
4 Llamas










Review
Oh the Wingfeather Saga! How I have missed you!! So last year I saw that this book was being written and I might-of screamed with joy! But if you know me I can also be a bit forgetful, so I forgot about this book and saw last month at Barnes n' Noble and 'bout screamed again. (NEW BOOKS!!!!!)
This book is the 5th (ish) book in the Wingfeather Saga. However, it isn't a continuation of the series. This book is a bunch of short stories that include hints here and there of them mysteries of Aerwiar and the secrets within it's kingdom. 7 short stories from 7 different authors, with 7 different endings that left me wanting another book!
This book was really cool! I very much enjoyed the stories, though some were hard to read. Mostly because of rhymes and words that can confuse a kid. And long descriptive paragraphs. Now like the other books, this Wingfeather "add on" has violence in it. From evil monsters trying to eat people, to dragons and harpoons, to the Fangs kidnapping children. There is violence. People die, by blade, arrows or spears. (And dragons…) There is mention of blood, and such. So the book kind-of feels a bit dark at times but I still think it is clean for teens 12 and up.
Over all, I very much enjoyed this book and will now be re-reading the Wingfeather Saga. I hope you all have a fabulous day! -The Young Llama Reader.
Pros
A very Christian-friendly story!
Lots of adventure and action!!!!
A great book for boys!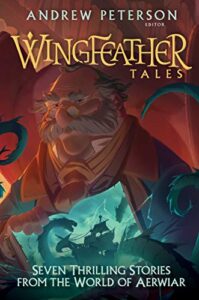 Return to the world of the Wingfeather Saga with Andrew Peterson and his all-star author friends—now featuring new illustrations and the first-ever Wingfeather comic!
Immerse yourself in a land of bomnubbles and quarreling cousins, sea dragons and book publishers, thieves and Fangs and secret maps. Here within these pages lie seven stories of the distant past, lost adventures, forgotten songs, and heartbreaking histories. The Shining Isle is restored, but Aerwiar is vast—and these authors have tales yet to tell:
•  Explore the inner walls of Yorsha Doon, just West of the Woes of Shreve, on the edge of the Dark Sea of Darkness, from the eyes of young Safiki in "The Prince of Yorsha Doon" from the creator of Aewiar, Andrew Peterson.
•  Jennifer Trafton's warm and whimsical writing brings to life a publishing nightmare populated by the many beasts of Skree in "The Wooing of Sophelia Stupe."
•  Learn the origins of Ollister Pebmrick's mysterious entry in the Creaturepedia about his encounter with a raggant in "Willow Worlds" by N. D. Wilson.
•  Travel with young Podo Helmer on an epic hunt for sea dragons in "From the Deeps of the Dragon King" from A. S. Peterson.
•  Jonathan Rogers presents "The Ballard of Lanric and Rube," sung by Armulyn the Bard, tale-spinner of the imaginary Shining Isle of Anniera, in On the Edge of the Dark Sea of Darkness.
•  Discover what life was like for Maraly and Gammon in post-war Skree in "Shadowblade and the Florid Sword"—the first-ever Wingfeather comic—by Andrew Peterson.
•  Douglas McKelvey's epic, heartbreakingly hopeful novella "The Places Beyond the Maps" recounts a father's journey to redemption.
You'll also find delightful illustrations by Justin Gerard, Hein Zaayman, Cory Godbey, John Hendrix, Nicholas Kole, Aedan Peterson, Joe Sutphin, Jay Myers, and Doug TenNapel.
Enter a rich, imaginative world that becomes more real, more mysterious, more dangerous, and more beautiful with each story's telling
Was this post helpful?
Let us know if you liked the post. That's the only way we can improve.