Young Llama Thoughts
Adventurous

Christian Friendly

Easy Reading

Humerous

Youth Appropriate
Overall
4 Llamas










Review
So, I ADORED the 1st Enola Holmes books soooooo much, I went and found the rest of the series!!!! (Except book 4 and 6…. So I read books 1, 2, 3, 5…. Opps…)
These books are about Sherlock Holmes younger sister. Enola Holmes. And the books are all about the cases that she is solving, while trying to hide form her brothers, find her runaway mother, and survive the horrors of 1888 London. But when a young girl goes missing, and Enola starts finding clues, she can't help but find this poor girl before it's too late.
The book is awesome, but NOT kid-friendly. Two people get half strangled… and there is mention of a hypnotist mesmerizing a young girl while she is sleeping in her bed. (Creepy!!!) Thankful nothing happened, but it is not really a kids book by my standards. (Oh and someone gets stabbed with a knife, I don't think they died, but they were stabbed.) There is also mention of the, Scum of London, the low-lives? Ladies of the Night. Beggars frozen to the street…. (All sorts of lovey stuff.) But it is NEVER described; only mentioned in passing.
Over all, I really like this series!!!! Even though it can be a bit violent at times, it is REALLY an AMAZING series for girls 14 and up! I TOTALLY suggest it!!!!!! -The Young Llama Reader.
Pros
An AMAZING book for girls 14 and up!
VERY interesting mysteries!!!!
EXTREMELY well written!!!!
Cons
Some violence, and hypnotism.
Mention of all the "bad" places in 1888 London.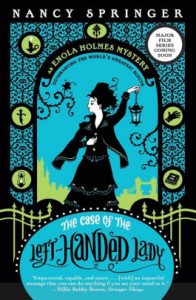 Enola Holmes is hiding from the world's most famous detective—her own brother, Sherlock Holmes. But when she discovers a hidden cache of bold, brilliant charcoal drawings, she can't help but venture out to find who drew them: young Lady Cecily, who has disappeared from her bedroom without a trace. Braving midnight streets where murderers roam, Enola must unravel the clues—a leaning ladder, a shifty-eyed sales clerk, political pamphlets—but in order to save Lady Cecily from a powerful villain, Enola risks revealing more than she should . . .
In her follow-up to The Case of the Missing Marquess, which received four starred reviews, two-time Edgar Award winner Nancy Springer brings us back to the danger and intrigue of Victorian London as she continues the adventures of one of the wittiest and most exciting new heroines in today's literature.
Was this post helpful?
Let us know if you liked the post. That's the only way we can improve.