Young Llama Thoughts
Adventurous

Christian Friendly

Easy Reading

Humerous

Youth Appropriate
Overall
3.8 Llamas










Review
Sooo… I may or may not of gotten more used books to add to my 'To-be-Read' shelf. (I only got 10 ok!) And this book was one of the must read immediatelys that didn't even make it to the shelf. (What can I say, I love Gordon Korman's books so much! And I haven't heard of this series before!!!!)
This book is about a boy who's eyes change colors. One minute there blue, the next you know they are amber. Jax has always had this "gift", but when strange visions start happening he realizes his eyes might not be the only thing strange about him. Turns out he is an Hypnotist, and a special school wants him to learn how to use his power for the better good… But whos better good is it being used for?…
This book was awesome!!! I always love a good sci-fi/super-heroish kind-of book and this one did not disappoint. It has action, humor, some fighting but mostly just a kid using his skills to save the world! The "powers" in the book are more like skills that some people have and some don't. There isn't any voo-doo or magic, certain people were born with the gift to hypnotize and it has been passed down generations since the beginning of time. (The Greeks thought they were powerful gods, the pilgrims thought they were witches (Salem Witch Trials) Some do good and some do bad that's it.)
However, some hypnotists in the book are evil people. There are about 4 people in the book that get hypnotized to (CODE WORDS!) 'ill themselves. All 4 are saved and wake up not knowing what happened but still scary. So, this is a clean book but it teaches kids the value of life and not being selfish with what you have. Gordon Korman usually does a great job focusing on good morals for kids and I still think this book is good for boys 10 and up.
Over all, I did enjoy this book very much and I can't wait to read the other 2. I think it is very clean, I like the action, humor and story and I totally suggest this book to boys! Have a wonderful day! -The Young Llama Reader.
Pros
A really great book for boys 10 and up!!!
Very clean and interesting!!!!
Cons
Violence and mention of suicide…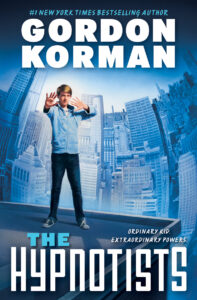 The first book in an all-new, mesmerizing adventure from the masterful, #1 NEW YORK TIMES bestselling author Gordon Korman — now in paperback!
Is it a gift . . . or is it a curse? Jax Opus can use his color-changing eyes to make people do things they don't want to do. (Only his color-blind best friend, Tommy, seems immune.) At first, Jax doesn't know what he's doing — temporarily hypnotizing friends, foes, and strangers. But then his power pushes things way too far, and his secret isn't a secret any longer.Soon Jax finds himself meeting Dr. Elias Mako, who wants him to join a special institution that will teach him how to use his powers. But what will his powers be used for? That's the big question for Jax as his hypnotic abilities draw him into a conspiracy that will have him racing against time and a mysterious mastermind to save his best friend, his parents, and the entire United States.From #1 NEW YORK TIMES bestselling author Gordon Korman comes a fast, fun, and fantastic adventure about a kid who can make other people do what he wants — and who's wanted big-time because of it.
Was this post helpful?
Let us know if you liked the post. That's the only way we can improve.