Young Llama Thoughts
Adventurous

Christian Friendly

Easy Reading

Humerous

Youth Appropriate
Overall
4.4 Llamas










Review
It another C. D. Ross book!!!!!! I could not resist!!!!! And it is not only a fabulous book, but it is soooo cute! I mean it is only a few inches tall and fits in my purse! LOOVVEEE!!!! (Why are small books the cutest?!?!?!?!)
This book is about a ballerina who lost her chance to play the Sugar Plum Fairy in the Nutcracker play. But when a handsome director asks her to preform her dream roll on stage again, right at Christmas! She decides to try to claim her dream once again! But will this play be the prefect chance to find a Christmas romance as well?
I loved this book! It was beautifully written, the characters draw you in, and the plot just keeps you reading till the end!!!!! And, Ms. Ross put actually facts about ballet into the book. How ballerinas break in the shoes, dance moves and more! (I have a few weird habits that I like to watch. Red Carpet gowns, heartbreaking videos on puppies! and cuddling moray eels are just some of them. Ballet has also snuck in on time to time so I liked all the fun facts!)
There is some injuries in the book. Broken bones, bloody feet from dancing and cuts as well as other stuff. This all happens in dancing so here it is. But what I really liked about this book was that it is Christian-friendly!!!!!! LOTS of mention of God, His love and following His will for your life! It makes me smile to find new Christian authors. (If you can't tell, I'm basically trying to tell you to buy all of her books!!!!!!!!)
Over all, YAY! LOVE THIS BOOK! It is on my favorite shelf of books, along with C. D. Ross' other 2 books. And I plan on getting the rest of her books soon! (By the way, I suggest this to girls 12 and up.) Have a great day! -The Young Llama Reader.
Pros
A beautiful Christmas story!
Perfect for teen girls!!!
Christian-friendly!!!!!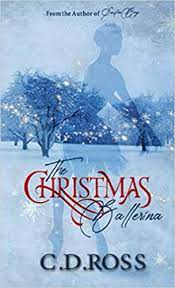 Prima Ballerina, Diana Hill, was at the height of her dancing career when tragedy struck on the night of her dream performance. Now, years later, when the young, multi-award winning director, Phillip Dean Crabshaw, is asked to direct the largest recorded ballet performance for a charity event he seeks Diana's help.Will Diana get one last chance at her dream and could The Nutcracker Ballet be the perfect setting for a Christmas romance?
Was this post helpful?
Let us know if you liked the post. That's the only way we can improve.