Young Llama Thoughts
Adventurous

Christian Friendly

Easy Reading

Humerous

Youth Appropriate
Overall
4.5 Llamas










Review
Ok, I LOVE this book! Maybe love isn't the right word… Adore, adore is the right word. I ADORE THIS BOOK! There is action, murder, suspense, true love, justice, and a beautiful representation of Christian redemption! Plus, it's a western. This is a must read for any romance fiction lover! (And I'm not just saying all this because Ms. C. D. Ross sent this book to me for my review. But that did help her get a new fan!!!!)
This book is about Weston "Babyface" Barlow, a notorious outlaw by accident. He never meant to become one, but now he is. Running from his past his whole life, Barlow never even thought to ask God for help. But when he gets shot in the middle of a bank robbery and people are out to get the reward for him. God might just be the only one who can keep him alive. Meeting a woman doctor who saved his life, suddenly Barlow doesn't know if he wants to keep running the rest of his life anymore. Now, he might just want the love that Jesus promised him.
This book was beautiful! I was drawn in from chapter 1. The action, suspense, romance and touch of mystery just kept me wanting more and more and more!!! I have actually never read a western before, and now I don't want to read any but this one! I don't think even one could live up to this one.
Now, this is NOT  a kids book. There is mention of violence. Guns, bullets in bodies, stabbings, wars, torture, murder, some blood, saloon girls, women being kidnapped. Now, one thing I truly enjoyed was that Ms. Ross did not explain the blood and guts too much. It was more like, there was blood, but now there's not. There is a lady doctor who does surgery's once or twice, but NEVER described. (Which is good, because I would of passed out! 😉 )
Over all, what an amazing book!!!! I totally suggest this book to teens 15 and up!!!!!!!!!!!!! And I am soooooo getting the rest of her books right now! (She has 4 more plus a 5th coming out soon!!!!!! I am spending money on this absolutely amazing author!!! And a devotional!!!!) I hope you all have an amazing day!!! -The Young Llama Reader.
Pros
An AMAZING western adventure!!!!
Christian-friendly!
Action packed!
A very sweet romance that will make your day!
Cons
Mention of violence, torture and murder.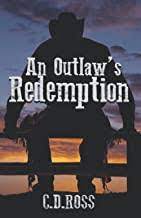 Weston Barlow never meant to create a name for himself as a notorious outlaw. Yet with each day the legend of his deeds and the bounty on his head rises. After a robbery goes wrong and Barlow is injured, he must use his only means of escape and outrun the posse seeking the price on his head – riding away into an unforgiving snow storm.
When he gets stranded with an old rancher and the town doctor, each with secrets of their own, he is faced with a decision. One that will make him wonder if facing the posse might be easier than facing his own gang.
Was this post helpful?
Let us know if you liked the post. That's the only way we can improve.